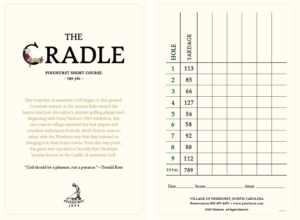 THE U.S.SR WOMEN'S OPEN July of 2018 at the Chicago Golf Club, volunteer opportunities coming soon, stay clicked in or visit USGA.org. The Cradle at Pinehurst is now open, par 3 golf at it's best, designed by architect Gil Hanse. Visit Pinehurst.com.  ______________________________________________________________________
The Illinois Golf Hall of Fame recently held it's Bi-Annual induction dinner to enshrine the Illinois Hall of Fame Class of 2017.
Golf professionals the Horton Smith, Gary Groh and Gary Hallberg were inducted this year.
The three professionals joined 82 already enshrined members. The Illinois Golf Hall of Fame is located at the Glen Club. The next class to be inducted will the Class of 2019. The hall of fame was created in 1989 by the Illinois PGA Foundation to recognize those who have contributed to the game of golf here in the State of Illinois.
The Class of 2017.
Horton Smith, was the winner of the first and third Masters Tournament, while winning 32 tournaments on tour. Smith had an association at Oak Park Country Club  during his masters victories.
Smith has seven wins during his rookie year on tour and made the Ryder Cup team. Smith served as president of the PGA of America from 1952-54.
The Horton Smith Award named in his honor is for his efforts to help golf professional receive continuing education.
GARY HALLBERG, was a three time winner on the PGA Tour, and a winner on the Champions PGA Tour in 2010. He was a member of the winning 1977 Walker Cup Team, and was a four time All-American while playing for Wake Forest. He had back-to-back wins at the North-South Amateur at Pinehurst. His international wins gave him victories on four continents. Hallberg won the state amateur and state open two times each.
GARY GROH, the long time head golf professional at Bob-O'Link, was also the winner of the 1975 Hawaiian Open on the PGA Tour. During that tournament Groh defeated both Jack Nicklaus and his longtime friend Arnold Palmer.
During his time at Bob-O-Link, Groh won eight Illinois PGA majors that included the 1994 Illinois Open and four Illinois PGA section titles, his last win coming at age 57. Groh was victorious in 15 IPGA senior major titles. Groh had a run of 13 years where he did not lose in Radix Cup play.
The Illinois Golf Hall of Fame is now accepting nominations for the class of 2019, which will be selected in spring of that year.