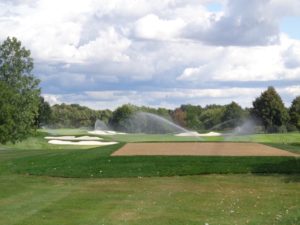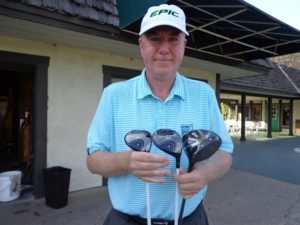 THE SCHAUMBURG GOLF CLUB is nearing completion of Phase 1 of it's three year renovation program, visit the Schaumburg Park District Website for details. Callaway is having an Epic year, see Callawaygolf.com for news on Epic and Steelhead woods.        ______________________________________________________________________
(Reporting from Nekoosa Wisconsin, and Arlington Heights IL.)
In September of 2013 I traveled to New Buffalo Michigan, to meet with Mike Keiser who would be with architect Jim Urbina that day at his Dunes Club, looking at trees and area's to cut back that had become over-grown.
When the walk was done, I sat with Keiser and talked about the Dunes Club, and a new project in Canada called Cabot Links. But what came out of that interview was the announcement of a new project in central Wisconsin.
Keiser said the land he was about to buy that December, (about 1800 acres) was sand based and it might get called Sand Valley. That observation was correct, the land had sand (plenty of it), and in the end the Sand Valley name stuck and a resort was born.
During the BMW Championship that September I spoke with Milwaukee Journal-Sentiniel and now Wisconsin Golf Hall of Fame golf writer Gary D'Amato, who told me he would be making a visit to Sand Valley later that fall. I told him I would be happy to join him on that first visit. So in mid-November I followed D'Amato to Sand Valley and he and I became the first two media members to visit the site. Since you could not drive cars back into the property, we met Craig Haltom (who discovered the property and relayed the find to Keiser), and jumped into Haltom's large 4-wheel drive pick-up truck to tour the property. We still almost got stuck on multiple occasions.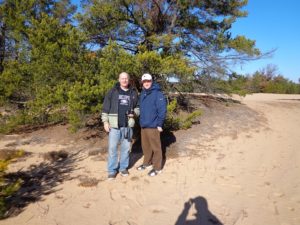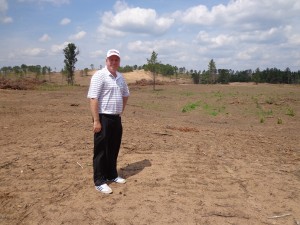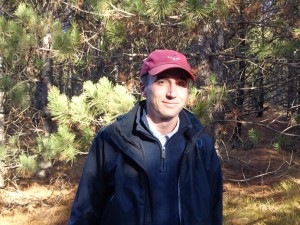 Top Row L, what Sand Valley was during our first visit in 2013. Gary D'Amato (L) and I during that first visit. Bottom Row (L) my second visit to Sand Valley in July of 2014, with over 600 acres of land already cleared for work to begin (Bill Coore had already staked out a preliminary routing of the Sand Valley course). Bottom (R) Craig Haltom found the Sand Valley site and shared his find with Mike Keiser.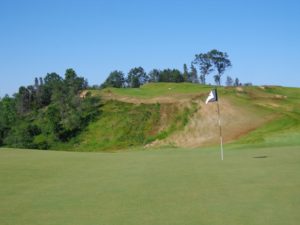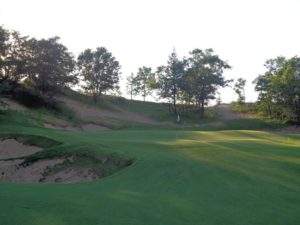 Above Left, the Par 3, Fifth hole on Sand Valley, (R) the Par 4, 9th hole at Sand Valley.
Keiser at first had his doubts about the site, he first dispatched Josh Lesnik of Kemper Sports to visit the property, telling Lesnik "give me a reason to say no". Once there it took Lesnik only 30 minutes to call Keiser, and tell him "you better get up here".
So Keiser made the trip to Wisconsin and it took him about 45 minutes to realize he had to make a decision and quickly. Then just a few months later, Keiser bought the land and the work to create a Midwest version of Bandon Dunes got started. By the end of 2014, shapers were hard at work and the planting of greens, tees and fairways was underway. In early 2016 nine holes had opened. By the 2016 U.S. Open weekend in June the first 13 holes had opened, and I was on my way back to Sand Valley for visit number three.
I arrived at Sand Valley as Dustin Johnson was on the back nine at Oakmont getting ready to win his first major. I checked into one of the four rooms that were open for business at Sand Valley, and then put my golf bag over my shoulder and headed for the first hole.
A small hut was under construction at the time, right behind the first and tenth tee boxes.
At the time I was told it would be called Craig's BBQ Shack, it later was named Craig's Porch ( in honor of Haltom).
Once on the golf course I played the front nine, and then the tenth hole. After the tenth hole, I took the path to hole 16 and played 17 and 18 completing the 13 hole routing. Holes 11-15 were still closed, but three of the holes were open two weeks later, and all 18 by Labor Day weekend. The next morning I played the 13 open holes again, and walked the five holes that were closed. It quickly became apparent that Coore and partner Ben Crenshaw had carved another sensational routing on a remarkable piece of property. Sand Valley was on it's way.
Shortly after the 2017 golf season started, all 18 holes on the Sand Valley were open and by fall six of the 17 holes on the Par 3 course had opened, nine holes on the second 18 hole course Mammoth Dunes by David Kidd are ready for play. 16 holes can now be played in the resorts last week of being open for business in 2017. The progress made by the resort over the last 16 months called for my recent return, so I go even with poor weather reports in the forecast.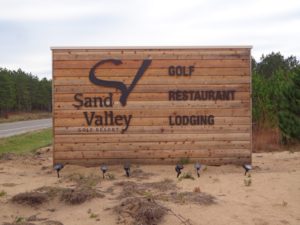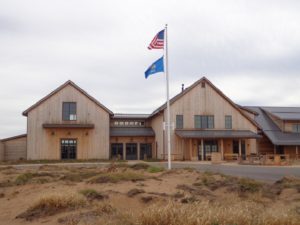 THE MAIN ENTRANCE is now on the northside of property, with the new clubhouse complete and open for business.
The arrival to Sand Valley is different than it has been in the past. The entrance is on the Northside of the property (Archer Road) and has a wooden sign to greet visitors. This is a big difference from when I first saw the property with D'Amato, that day we entered from the Southside and parked near a stop sign full of bullet holes and hits.
Last year I arrived through the gate on a gravel road, drove through packed down sand and pulled up in front of the lone open villa. Now one drive's into the front circle of the clubhouse, checks in at the front desk and get your key to a clubhouse room, a villa, or a room at one of the two open lodges. During my recent visit construction was continuing near the clubhouse, as an addition with more rooms was being built.
There are two lodges now open for business at Sand Valley. The Fairway Lodge sits on a ridge that overlooks the 18th fairway of the Sand Valley course, with most rooms also having a view of the Par 3, 17th green.
The Dunes Lodge also sits over-looking the 17th green, but it's the 17th and final hole of the Par 3 course.
Yes that's correct, 17 holes make up the loop on the Par 3 course. Much like at Bandon Dunes, where Keiser told Coore and Crenshaw, here's the land and just
go fit in as many good holes as you can. The Par 3 Course at Bandon Dunes is called the Preserve, and it has 13 holes.
But for those golfers who might want more golf after a regulation round of 18 holes, but not another full 18. The short routing's of a short course can normally hit the spot.
The current holes that are open, are 1,2,14,15,16,17. Some of the other holes looked ready to play right now, but they will officially open next spring when Sand Valley reopens for 2018.
If you played the Sand Valley course in 2016, there is a good chance you might not have played all 18 holes, unless you came late in the year.
The last five holes to open were holes 11-15. When I walked those holes in 2016, I found them all to be good holes but one hole really stood out, the 14th.
This little Par 3 (it can play 200 yards from the tips but most tee boxes play 150 yards or less), with some elevation change off the tee's that sit about 20 feet higher than green level. It gives the look of one of the more well known holes at the famed Pine Valley in New Jersey. At the end of your walk around Sand Valley is the tribute to Haltom, Craig's Porch, and I must say that the $1.50 Pulled-Pork taco's are the steal on Sand Valley food and beverage menu. Get more than one, they are good.
If your going to be a golf destination you do need more than one 18 hole golf course.
By the time Sand Valley opens in 2018, there will be two open 18 hole courses.
The second course Mammoth Dunes by architect David McLay-Kidd is a real eye-catcher. It won't take long for the golf course raters of the major national golf publications to visit and pronounce this course as a Best-New or Top 100, it's that good and I didn't even play all 18 holes.
After two laps around the six open holes of the Par 3 course, and then playing Sand Valley during Day 1 on a 57 degree day, things got interesting on Day 2.
The rain I'm told is coming, but it is only 41 degrees and the wind is howling. But one look at Mammoth Dunes from the clubhouse and you tell yourself, not only does this course look incredible, but if this is Ireland or Scotland golfers would be out playing.
So on go the layers of warm clothes and heavy-duty all weather suit and out you go. Standing in the shadows of the Sand Valley clubhouse is the Mammoth Dunes putting green and first tee box. After a solid drive down the middle of the first hole, you feel much better about your decision to play. After all you are not alone, there is a foursome headed out 30 minutes after you. But until they tee off, you have Mammoth Dunes all to yourself, something that will rarely happen for any golfer going forward.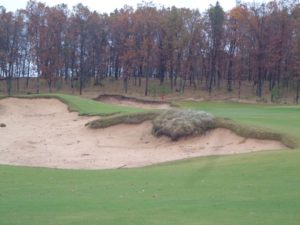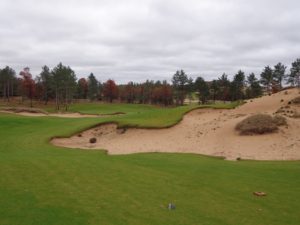 (L) The approach shot on the par 4, second hole. (R) The Par 3, 16th hole from the elevated tee box.
Kidd did a tremendous job creating the routing he did, after Kidd's "Plan A" didn't totally meet with the outlook Keiser had for Sand Valley. When Keiser went to see Kidd's first routing, he found holes that would require cart paths and carts to get the golfers around.
That wasn't what Keiser wanted, and neither did Kidd. So it was back to the drawing board for Kidd, and when he was finished this time around, he had hit a Home Run.
When it comes to blind shots, there is always a mixed reaction from golfers on those who don't mind them and those who do. What Kidd did in a magnificent way on Mammoth Dunes, was to create your share of partially blind shots. The best place to be in the fairway, might leave you a carry over the corner of bunker, or a dune. But you will see the flag or at least the top of it.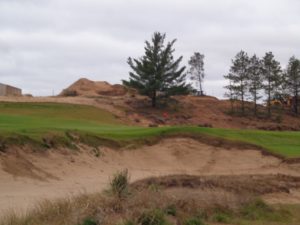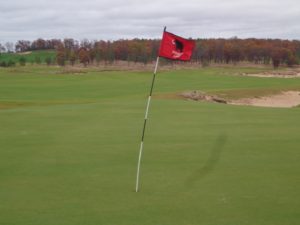 The 18th green on Mammoth Dunes requires a solid approach shot, and this par 5 at only 523 yards from the tips is a handful when played into the wind.
I was only able to play 9 holes of Mammoth Dunes, but with the rain coming and winds picking up during the round, it was enough. I did get a good look at holes 6 and 14 that I didn't play but are solid, and I hear the last two holes that are still not open 11-12, are incredible. Current open holes are 1-5 and 15-18.
If you didn't make it to Sand Valley this year, you will want to make the drive up in 2018 when all the golf holes are open. Keiser says the resort did more rounds than expected this year, I can see that being a trend. The biggest questions now are, who will design the third 18 hole course, and how long until the facility hosts a tournament.
My recommendation is put Sand Valley on your bucket list for 2018. You can make reservations at (888)-651-5539 or visit Sandvalleygolfresort.com. Drive time from the Chicago area is 3 hours and 20 minutes from where Rt. 53 and 90 meet near Woodfield Mall in Schaumburg. I know I'll make my fifth visit when the calendar hits 2018.