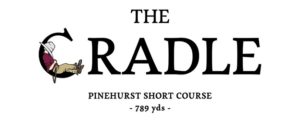 THE CRADLE AT PINEHURST, the new short course, 9 Holes-Par 3 789 yards of pure fun Pinehurst style, created by Gil Hanse, see Pinehurst.com. The Green Street Grille in downtown Bensenville, on Green Street. See Greenstreetgrille.com. Golf channel is on.  ______________________________________________________________________
It was back in late July I played the renovated Preserve at Oak Meadows for the first time. I decided to return again yesterday for another look.
As for the Preserve, it looks better every day.
What really jumped out was that this baby of a golf course is growing up quickly. Turf conditions had seen a big improvement over the first visit.
Where it was really noticeable was on the last hole completed, the 4th. While the hole is still cart path only, it is full of grass and actually looks like the fairways could handle cart traffic. Next year on opening day, it will. During this visit the driving range was open as well, it wasn't last time. It looks solid now, even though Monday's are mat days. But the natural grass is available on other days. What I really liked about the range, was an area about 100 yards down the left side, that is set up like a small island green. It's a great place to get warm with the wedges, and see just how locked in you are that day. Architect Greg Martin gets a big Kudo's for this addition.
My round 1 at the Preserve was off to a good start, but an equipment issue derailed the round after six holes. The good news is that was not an issue yesterday.
The column photo of me above is from the second tee box, which is a great dogleg left par 5. The green is guarded by a small creek that makes trying to get home in two shots a little tough to do.
After a nice testy 183 yard par 3, third hole. The challenging short Par-4, 4th hole involves a real risk-reward 300 yard hole. When things do settle down for the year, Martin is expected to return and build another new back tee box. Which should add a little drama for the pro's and big hitters.
The Par 5, 529 yard Fifth hole is my favorite hole on the golf course. Not sure why, but it does look solid off the tee. Maybe that's the start.
While there is some carry off the tee, Martin created a generous fairway that sets up an approach to an uphill green back in the preserve of trees that have defined the property and the courses on this site for years. The fifth might not be a birdie hole even for golf players, but most all players playing from the correct tee box, have chance for making a par.
It was great to see the turf really looking good. For those who did wonder if the course should have opened this year, the answer was absolutely yes.
I have had my share of rounds on courses before they have held opening day to the general public. There are always going to be some grow in pains, but in most cases shortly after opening it really looks like the course should be open.
How management opens a golf course is becoming a strategy. In fact, The Preserve at Oak Meadows is undergoing what DuPage Executive Director Ed Stevenson calls a preview season. Which is a sneak preview that gets a limited amount of golfers out per day, for a limited time. It creates the buzz that renovated or new courses can use heading into a grand opening season. Which is what the Preserve will have in 2018.
I did mention that the fifth hole was my favorite on the golf course. What are my other favorites? After the 5th, it's holes 16-2-17-4 and 7. If you wonder why, come out and play the course and you might see why. You can also come out and create your own favorites, maybe your first birdie on the course might help you decide. Stay clicked in to the this website, and DuPageGolf.com for more information on the Preserve.
There are limited amount of tee times per day, and the course is closed on Tuesdays for additional maintenance. The course will close for the season at the end of October, so get out there and play the Preserve while you still can. News on the new clubhouse could be coming soon, so stay clicked in right here.
Right across the street at Maple Meadows, on October 14th is the Rambo Scramble, sign up today, DuPageGolf.com.
Just 8 minutes from the Preserve, is the Green Street Grille. Details tomorrow on a Gog Blog 19th hole.