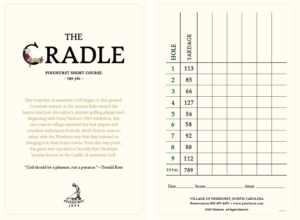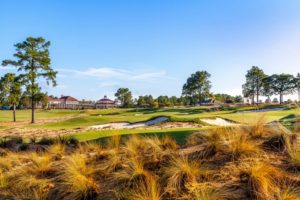 THIS CRADLE will rock. The new 9-hole short course at Pinehurst. Opening soon on September 30th. Visit Pinehurst.com or you can call (844)-804-3322. #4 closes in Oct.    _____________________________________________________________________
The changes keep coming at Pinehurst and Resort President Tom Pashley continues to make all the right moves in keeping Pinehurst's tradition and history, while a touch of new for those younger and newer visitors to the sandhills of North Carolina.
In recent months the new grill behind the 18th green of Pinehurst #2 has taken off, Dueces has been a hit with golfers, guests and members. (Yes, Pinehurst does have memberships).
A new pool just to the side of the newly improved members clubhouse has been a hit as well.
Now it's work on the courses that are coming to light. Course #4 is about to close so that architect Gil Hanse can make the changes and upgrades. The new par 3 short course called "The Cradle" opens in 18 days. There have been some changes to courses # 1&3 to help with the Cradle. A recent Holly Inn renovation has been completed and that will be featured here on the Gog Blog very soon.
Now it's the new Pinehurst Brewery coming in spring of 2018, located with in walking distance of all the Pinehurst Resort Hotels.
It will have on-site brewing and comfortable indoor and outdoor seating along with a beer garden. While the old steam plant is getting restored, much of the original brick and other parts of the plant will be saved and restored as well. The original entrance will be recovered and have a glass entryway installed.
One major part of the restoration will be the full return of the famed smokestack, a major feature of the original Pinehurst Village. The plan calls for the original base of the smoke stack that still has it's remains standing.
The Pinehurst Brewery will be an ideal setting for group functions, where some sections can be closed off for private use.
The building was originally known as the Power House and this steam power plant started it's operation on December 31, 1895 so the Holly inn had electricity and steam heat when it first opened it's doors to guests on New Years Eve. The plant provided heat, and electric for the community in it's early years, which helped launch Pinehurst into the village it is today.
Now everyone can look forward to the brew's it will create in spring of 2018. For more details please visit Pinehurst.com.