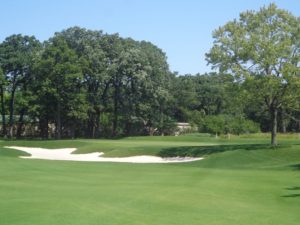 THE PRESERVE at Oak Meadows in Addison is open for public play, DuPagegolf.com. The area's biggest renovation project the Schaumburg Golf Club has it's Players Nine work now almost completed except the grow in. See Schaumburggolf.com for details and see our story coming next on what will be new at Schaumburg Golf Club #Hole22    _____________________________________________________________________
35 Illinois PGA Professionals again this year have come through during the Birdies For Charities Outing this past Tuesday at the River Forest Country Club.
This was the seventh year of the outing that was first proposed by Medinah's Travis John's, who had played in a similar event in the North Texas PGA Section before coming to Illinois.
The figure raised by the event this year was $269,485 dollars, which brought the seven year total to $1.18 million.
"The pro's really pulled through this year," said Chris Gumbach, event co-chair and host PGA Professional at the River Forest Country Club. "Each year we have the generous support of our donors and the tireless effort of our fellow PGA pros that play golf for nearly 12 straight hours straight and raise significant for four deserving children's charities . And, this year we reached some major milestones. Of course we have a lot of fun playing golf together as well." The 35 pros that played, raised money for the following charities.
Ronald McDonald House Charities, JDRF, Ann and Robert H. Lurie Children's Hospital and the Illinois PGA Foundation.
"Since the inception of this event seven years ago, Illinois PGA Professionals have continually demonstrated their dedication and enthusiasm for doing what they do best-play golf- to assist charities that help children and families improve their lives," said Carrie Williams, executive director of the Illinois PGA Section.
Medinah's Johns lead the field with 30 birdies, followed by Nick Papadakas (Onwentsia Club) and Sean McLeod (Medinah) with 29 birdies. Curtis Malm (White Eagle Country Club) had 26, with Brian Psenicnik (Twin Orchard Country Club) and Adam Schumacher (Indian Hill Club) having 25 birdies each. Chris Gumbach raided the most in donations with $28,085 and Papadakas with $26,480.
"When Travis suggested the idea and outlined the event for us, it was an immediate 'yes' for me, recalled Gumbach. "And it's very satisfying to see all that we've been able to accomplish in seven years and the impact the event has had to help these charities and kids and their families."
For information on the event and how to donate please visit ipgabirdiesforcharity.com