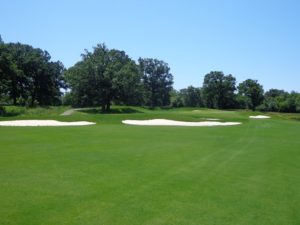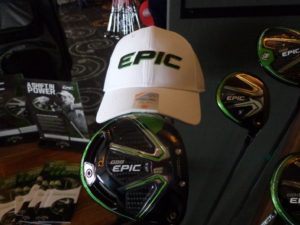 THE 16TH HOLE AT THE PRESERVE at Oak Meadows in Addison, now open for public play, see DuPagegolf.com and while your there sign up for the famed Rambo Scramble at Maple Meadows in October. IT'S BEEN AN EPIC SUMMER Callaway Golf is on the move with the new Epic Driver, Steelhead Fairway Woods and Mack Daddy Wedges by designer Roger Cleveland. visit Callawaygolf.com for more information.         ______________________________________________________________________
Those Playoff's, yes PLAY-OFF's are now underway, and Dustin Johnson is on the move after defeating Jordan Spieth at the Northern Trust in New York.
Who isn't on the move to this weeks event in Boston is, Steve Stricker, D.A. Points and Luke Donald, who have all been eliminated from the Fed Ex Cup Playoffs and Conway Farms in two weeks.
Kevin Streelman is still alive but needs a god week in Boston to make the field in Lake Forest. Below is an interview that I and BIG 3 partner Len Ziehm did with Streelman at the John Deere Classic in July that I just found in the files.
Our interview with Kevin Streelman on Wilson golf, his season and more.
I hope you were able to catch our 1 on 1 with U.S. Amateur finalist Doug Ghim here on the site last week. What a great run by Ghim, and some good thoughts after having a few days to think about things. If you haven't heard it yet, scroll down a few stories.
Earlier today I posted a story about the new True Spec Golf in Highland Park. It is a pretty top notch fitting lab, I enjoyed checking it out and finding out somethings about my clubs and getting the fairway woods end of my game improved. Or at least I think, I haven't hit the new Callaway Steelhead fairway woods yet, but I will tomorrow when I play in the famed McWethy Cup Tournament at Mistwood Golf Club.
McWethy Cup invitational tomorrow at Mistwood is one of the fun events of the year. Happy Birthday To Jim McWethy as well, we know it's coming up.
If you have not been to Mistwood you need to go play it, it's one of the finest public courses in the Chicagoland area. See Mistwoodgc.com.
Another one of McWethy's projects is the Green Street Grille in Bensenville, which is taking off according to our Golfers on Golf partner and GSG co-owner Mike Munro. GSG has a great menu and can be enjoyed outside on the patio, go do that while the weather is nice enough to do so.
The Preserve at Oak Meadows has opened to rave reviews, and the feedback my Golfers on Golf Radio partner Ed Stevenson (Ex. Director DuPage County Forest Preserve District) is getting has been great.
If you have not yet played The Preserve you should head over and check it out, in advance see DuPagegolf.com. for more details and information on tee times.
September and Labor Day are coming soon, and many courses are expected to run some Labor Day Specials, be on the lookout. September also means the BMW Championship will be driving into town from September 11th through the 17th, which 70 players will make the field is a god question.
GREAT COLLEGE GOLF returns to Jerry Rich's Rich Harvest Farms in September with the arrival of the Northern Intercollegiate on September 24 and 25. Besides NIU, three Big Ten schools will be playing, Michigan, Purdue and Wisconsin. The week earlier running head to head with the BMW Championship is the Illinois invitational at Olympia Fields Country Club. Stay clicked in for more details on both events.
Pinehurst Resort "The home of American Golf" where it's always a beautiful day has several projects on tap.
Resort President Tom Pashley joined Golfers on Golf Radio this past weekend and spoke about the many changes to the resort and it's nine golf courses.
Pinehurst 4 will undergo a Gil Hanse renovation starting this fall and be closed for a year. Pinehurst 1&3 are about to reopen from adjustments to a few holes, due to the creation of a new short course by Hanse. Early reports says this will be popular. The resort has not decided yet on moving forward with Pinehurst #10 on the land formerly known as the Pit GC. But has now completed renovations at the Holly Inn and says work is underway on a Pinehurst Brewery, that will wet the whistles of golfers and everyone who visits Pinehurst.
Stay clicked in for our stories coming up on Pinehurst improvements. With that, do you have your BMW Championship tickets yet. BMWChampionshipUSA.com if you don't.
The Gog Blog returns this week. RS