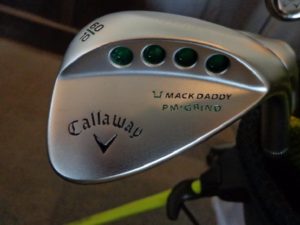 CALLAWAY WEDGE DESIGNER ROGER CLEVELAND talks at the Mistwood Golf Club on the new line of Mack Daddy Wedges, see Callawaygolf.com for more details.     ______________________________________________________________________
It was an incredible run through a USGA championship. It just didn't end quite right.
21 year old Doug Ghim of Arlington heights had the US Amateur in the palm of his hands, and it just slipped out.
These things happen in golf and sometimes at the worst of times. Ghim was two up with two holes to play, you would like to think Ghim should at least get a half point at worst.
It's just that the championship match of the US Amateur doesn't end that way. Credit 19 year old Doc Redman who rallied from 2 DN with two holes to play, to winning the US Amateur for stepping up big time when he had to. Redman was the player who lost the playoff recently at Skokie Country Club in the Western Amateur. At Skokie, Redman from Raleigh North Carolina who plays on the Clemson University golf team was 4 Dn with nine holes to go, rallied to force a playoff that he lost after 22 holes. This time he beat Ghim after just one hole.
For Ghim there was some consolation in finishing in second place. Ghim did earn a spot on the USA Walker Cup team that will play in Los Angeles in two weeks. Ghim will get to tee it up in the Masters come next April, and the U.S. Open at Shinnecock Hills in June. Not too bad of a consolation prize.
Click here to hear our interview with Doug Ghim on the US Amateur and looking ahead in the career of the senior to be at the University of Texas.
Ghim who was the Big 12 player of the year in his junior season, should have quite an exciting senior season before at some point likely in 2018, he will turn professional.
Ghim who along with Nick Hardy of Northbrook are two local players, who not only started in Illinois Junior Golf, but have moved on to Division 1 college golf and before long a professional golf career.
While Ghim didn't come home with the Havemeyer Trophy, he showed that the state of Illinois is turning out some upcoming golfers with a bright future ahead of them.