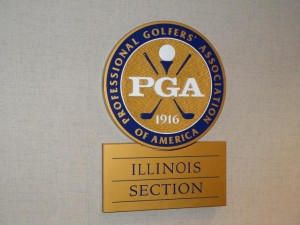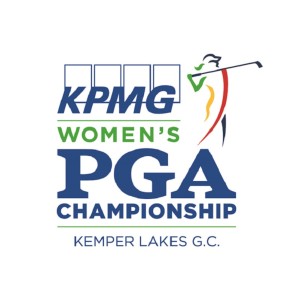 IT'S ILLINOIS PGA SECTION WEEK at Medinah Country Club. Come see the championship and Medinah this week, admission is free. IPGA.com. Tickets now on sale for 2018 KPMG Women's PGA Championship at Kemper Lakes GC next June.        _____________________________________________________________________
Jim Billiter of Kemper Lakes Golf Club and Adam Schumacher of the Indian Hill Club are the leaders of the 95th Illinois PGA Championship at Medinah Country Club.
Both players came from the morning flight, and Billiter was in the first group out.
"I love being first out," said Billiter. "But the negative was that I was four under par for the first nine, and I ended up 4 under par for the round."
Actually Billiter started out on 10, with partners Danny Mulhearn (Glen Oak CC) and Travis Johns (Medinah CC). Mulhearn shot a +3 (74) and Johns a +5 (76), both were expected to post lower numbers than they did. Billiter said both of them played better than they scored.
12 time PGA Section championship winner University of Illinois golf coach Mike Small playing out of the last tee time after attending his U of I golf team fund raiser, shot an even par 71, he was as low as 1 under par late in the round.
"The greens especially early were perfect," said Billiter. "They were like putting on glass, and were the best greens we have seen in a section event all year."
Billiter said the 10th hole is a hole where you driver it in the trees left off the tee, so that is exactly what he did.
"I hit it left and off of a tree and the ball ended up back in the fairway," said Billiter. "From there I hit it to two inches and tapped in."
Billiter says he had played the course 5 times before Monday and now he knows where to miss, and where not to miss. Billiter feels the scoring holes are early on both nines, but then players have to hang on the last three or four holes.
Schumacher's highlight was an eagle on the short par 4, 13th hole. It came on his fourth hole, and took him from 1 over par to 1 under.
Dakun Chang from Twin Orchard Country Club and Brian Carlson of River Forest Country Club are tied for third place at 2 under par. Overall 10 players were under par for Round 1.
Heavy rains are expected overnight into Tuesday morning, and could possibly delay the start of Round 2, watch IPGA.com for details.