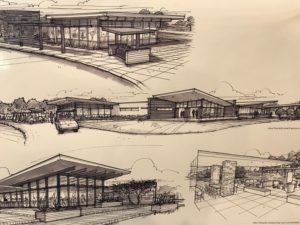 THE SWINGDUKE by Mike Roelle, weight train your body and your golf swing all at once, Swingduke.com (L). Clubhouse designs for the new Preserve at Oak Meadows, the Preserve is now open for public play, visit DuPagegolf.com for details and tee times. ______________________________________________________________________
It's down to the championship match of the 117th US Amateur. Doug Ghim of Arlington Heights Illinois faces Western Amateur runner up Doc Redman from Raleigh North Carolina.
Ghim attends the University of Texas in Austin, and Redman is a member of the Clemson University golf team in Columbia South Carolina.
Ghim defeated Theo Humphrey 2&1 in the semi finals to advance, while Redman won his match on the 18th green over favored Mark Lawrence. Redman barely made it to the match play part of the championship, and was the #62 seed out of 64 players in the match play. Ghim was only a slight underdog to Humphrey as both were seeded in the top 10.
Ghim fell behind Humphey early and went 1 Dn after two holes. But rallied quickly with a birdie to square the match. From there Ghim slowly built his lead to 2 Up at the turn after a pitch in eagle on the short par 4 8th hole. Ghim made eagle again on the back nine on a par 5 11th hole, and then won the par 4, 12th hole with a par to build his lead to 4 Up.
Ghim never won another hole after that but he didn't need to. Humphrey rallied to win two holes down the stretch to extend the match to 17, but ran out of holes when both players parred the 17th hole to end it at 2&1.
Redman had a tougher battle with Lawrence who took the early lead on Redman. But Redman won three straight holes on the front nine to go 2 Up. Lawrence closed it to 1 Dn, but Redman pushed his lead to 2 Up after a birdie on 10, only to see it go back to 1 Up after Lawrence won the 12th hole.
With a 2 Up lead and three holes to play, Redman that had to survive Lawrence winning both 16 and 17 to square the match. Redman won the match on the 18th green by making par to a bogey for Lawrence.
With their wins, both Ghim and Redman have earned their way into the 2018 Masters and US Open championships.
Click here to hear USGA interviews of Doug Ghim and Doc Redman.
The championship match starts at 10 Am CST time and will be shown on Fox Sports.