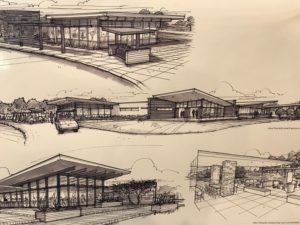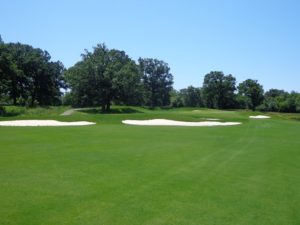 CLUBHOUSE SKETCHES for the Preserve at Oak Meadows by Dan Wohlfeil (L) and the Par 4, 16th hole at the Preserve. For more information please visit DuPagegolf.com. ______________________________________________________________________
The 68th Illinois Open is a runaway, and it's 2017 Illinois Amateur Champion Patrick Flavin who is running away with the championship.
Flavin is bidding to join David Ogrin as the player to win both the state amateur championship and the state open in the same year.
Flavin backed up his 64 at Briarwood Country Club in Round 1, with another 64 at the Glen Club in Round 2. His score of 128 leaves him at 15 under par, and he has a six shot lead over Brandon Holtz and past Illinois Open Champion Eric Meierdierks. His lead is 7 shots over defending champion Carlos Sainz Jr. and University of Illinois standout from Northbrook Nick Hardy. Both Sainz and Hardy put themselves on page 1 of the leader board with 8 under par 64's at the Glen Club.
Flavin says he is "keeping it simple and enjoying the round." During round one Flavin had his girlfriend as his caddy, but when she got called into work on Tuesday, he put his brother back on the bag. Flavin won with his brother at the amateur, and says he has a tough decision to see who to put on the bag for round three.
Flavin admits, it really whoever wants to do it.
For the third straight day, Flavin will be paired with Meierdierks who says "Flavin is playing great and has been fun to watch."
What was fun to watch was the shot of the day, and it did not belong to Flavin. Dakun Chang holed a five-iron on the par 5, 14th hole from 205 yards for a double-eagle 2. Unfortunately for Chang, it did not help him make the cut.
The purse as of Tuesday night is at least $95,000 with the winners check expected to be near the $17,500 it was in 2016.
Of the starting field of 268 players, just 51 made the cut. All groups in round three will tee off from the first hole, and the first starts at 8 AM. The leaders tee off at 10:40 Am.
If he wins the championship, Flavin since he is an amateur, will not get paid in cash. He will receive a trophy and gift certificate in the Glen Club pro shop.