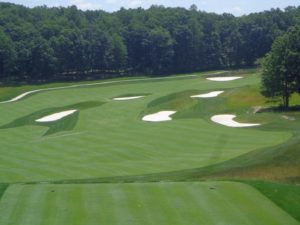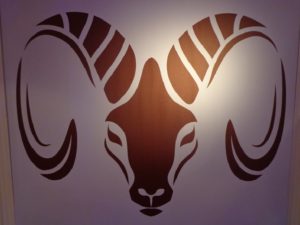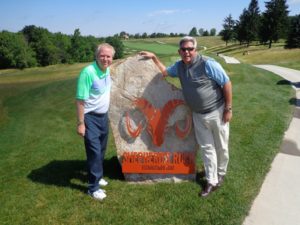 SHEPHERD'S ROCK at the Nemacolin Woodlands Resort is now Open For Play. This NEW Pete Dye designed golf course is one of the last by the Hall of Fame designer and architect. It sits side by side with the with the #1 in Pennsylvania rated Mystic Rock Golf Course, Shepherd's Rock should join your must play list. For more see Nemacolin.com. ______________________________________________________________________
THE FOURTH HOLE of Shepherds Rock, the new Shepherd's Rock logo and your's truly with Mike Jones Director of Golf at Nemacolin Woodlands Resort, on the first tee.
(Reporting from French Lick Indiana) By Rory Spears, Editor and Director of Content, follow Rory to the Nemacolin Woodlands Resort in Farmington PA., to the French Lick Resort in French Lick Indiana, and on Facebook, Linkedin and Twitter @GogBlogGuy.
She did it before and she can do it again. Trish Johnson had won before on the Pete Dye Golf Course at the French Lick Resort, when she won the 2016 Legends Tour tournament championship. This time the win was a little bit bigger than that. Johnson won the Sr. LPGA Championship, and it's the first major championship in senior women's golf. Next year with the addition of the U.S. Sr. Women's Championship at Chicago Golf, the ladies over 50 will have two majors to play for. Those between 45-49 will have a return to French Lick to look forward to playing in.
With 36 holes in the books, it appeared that Trish Johnson of Bristol England was in great shape to win the inaugural Sr. LPGA, and when it was done that's exactly what she did. It didn't come without a few interesting moments for Johnson, but she survived multiple challenges to hang on for a 4 shot victory.
Afterwards Johnson was still critical of her play, saying how she tried to give away the championship. But she did say that her driver the key to winning.
"I hit my driver well all week," said Johnson. "If you can give yourself only short irons into these greens it's a big advantage."
Johnson went on to add that she now has a new favorite golf course, and it replaces an icon in the sport of golf.
"When people ask me what my favorite course is I have always told them St. Andrews," said Johnson. " Now it's this one here in French Lick."
For the win Johnson collects the first prize of $90,000, after her three rounds of 67-72-73 were good enough to defeat runner-up Michelle Redman.
Redman now the women's golf coach at the University of Minnesota, who played her college golf at Indiana at some support from the locals, and said she heard them around the course. Final day attendance was around 2,500, that might have been more but temperatures reached into the low 90's on the Dye Course that has few if any trees or places of shade. Redman took home $54,397 for second place. Helen Alfredson was third.
Chicago area native Nicole Jeray who sat in fourth place much of the day, was seventh after a tough bogey-bogey finish. Jeray took home one of her bigger checks on tour earning $16,827
Click here to hear interviews with Trish Johnson, Michelle Redman and Berwyn's very own Nicole Jeray.
The championship and the French Lick Resort and Cook ownership group donated $200,000 to the Riley's Children's Foundation. Making the total donation over a few tournaments played at French Lick now over $700,000.
The championship created a new level in senior women's golf, one that many felt was long overdue. Play the Pete Dye Course at French Lick, see Frenchlick.com and make your reservations and tee times today.
Wednesdays third round wrapped up a long week of golf, that included a Symetra Tour event played last Friday and over the weekend on the resorts Donald Ross Course now 100 years old. The Sr. LPGA Championship was the first of a 5 year deal, dates not yet announced for 2018. But the championship is expected to be played earlier on the calendar in 2018 so not to be back-to-back with the U.S. Senior Women's Open.