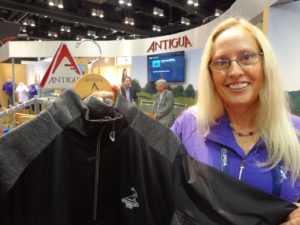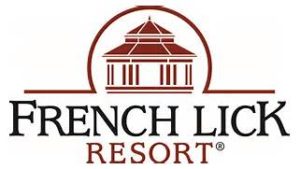 PAM MILLER OF ANTIGUA holds up more of the 2017 line from a leader in golf apparel, More on Antigua coming soon Antigua.com and ShopAntigua.com for all your golf apparel needs. The Symetra Tour and Sr. LPGA Championship converge on the French Lick Indiana in just a couple of days. Visit Frenchlick.com for details. #Itsamajor ______________________________________________________________________
PRIOR TO ROUND 4 OF THE KPMG Championship at Olympia Fields, I took a tour of The Preserve at Oak Meadows, that will be one of the best public courses in the Chicago area in the days ahead.
My radio partner at Golfers on Golf Radio (Saturday mornings 9 Am AM 750 WNDZ) Ed Stevenson, who is now the new Executive Director of the DuPage County Forest Preserve District, was kind enough to find a golf cart and play tour guide.
Ed unlocked the gate to the newly paved parking lot, and I pulled in past where the new clubhouse will go when built. The old Oak Meadows pro shop building still stands, and after a quick look at some clubhouse drawings in the pro shop, off we went to the golf course.
There has been some talk of late wondering why the golf course is not open yet. There was hope at one time that the window between Memorial Day and Mid-June, might get opened for play.
Unfortunately that wasn't the case. The second hope was maybe around the fourth of July. That didn't happen either.
In my opinion that's a good thing. There are just enough spots on the course and around the course not ready yet for an army of golfers to be trooping all over it. The good news is, that day is coming, and it's coming very soon. MAYBE by the end of July. But as someone who has played a fair amount of courses on opening day, or in advance of the grand opening, The Preserve could really use another 3 to 3 1/2 weeks of warm grow-in weather before the doors fully open. As a golfer paying a green fee, your first experience will be a better one if you give it another 25-30 days.
Stevenson is anxious, as are county officials to get golfers out enjoying the golf course again. Stevenson says, "we can't wait to welcome back the golfers."
With how long the process has been, since the fire that burned down the old clubhouse, trust me, everyone involved with the Oak Meadows project can't wait to see the tee sheet full of names.
In order to give the Preserve all the time it needs to grow in properly, play MIGHT be limited to a certain amount of rounds per day for awhile. Not a bad idea. I saw the reversible course "The Loop" at Forest Dunes in Michigan last year three days after it opened in late June. My opinion was that the course should have stuck to it's original plan and opened on Labor Day weekend. By Labor Day weekend it was in great condition, not so much in June.
Even though the Loop was open in June, rounds per day were limited to just 16, then 24 by August, and 32 in September. There were no limitations this year from it's opening day in late April.
In fact some new courses that open in the mid to late part of golf season, Mike Keiser's Sand Valley in Wisconsin is a perfect example, call the first year limited play, or preview play. Then the following year is the Grand Opening Season. It wouldn't be a bad idea for Stevenson to follow that concept.
Like any restoration or renovation project, the work has to start somewhere, and then end somewhere else on the course.
The work started on the Par 4, 16th hole, and the last two holes to be completed were holes 3 and 4. As a result the 16th looks like play should have started on it weeks ago, and holes 3 and 4 look like they need another month. The fourth hole might have to be cart-path only for all of 2017, which might be the smart play.
From the tour I took with Stevenson, here is my evaluation of the Preserve's 18 holes.
Like any course I have my favorite holes, they fit your eye or you know they are just fun to play, or will be fun to play.
The greens are really all in great shape, and most tee boxes are good as well. A few holes have maybe, 1 of 5 tee boxes that still need some time or touch up.
Hole 1, Par 4, with less trees on both sides of the fairway, I'm looking forward to it. There are a few spots left to grow in, but it shouldn't take them long to look great.
Hole 2, Par 5, This holes looks ready to play except for a thirty yard stretch down the left side of the fairway that doesn't get a lot of sunlight.
Hole 3, Par 3, a couple of small areas around the green need some grow in, but this hole is mostly ready to go.
Hole 4, Par 4, the short par 4, only about 301 yards.  This hole needs some time in the fairway, part of the back tee box isn't quite ready. There is room on the back side of the cart path behind the current back tee to add another tee box, and that might be the right call in the long run. The big hitters will try and cut the left corner, but you better be long to try that.
Hole 5, Par 5, maybe my favorite hole on the course, looks ready to go. Uphill Par 5, a solid hole that has a slight dogleg right built in.
Hole 6, Par 4, the old second hole at Oak Meadows. From 200 yards in looks great, in the fairway in front of the tee box, and one tee box need a little time yet.
Hole 7, Par 4, the old third hole at Oak Meadows has had the fairway raised to avoid flooding, and with multiple tee boxes on different angles will be a great hole. This hole has a few spots by the wetlands that need a little time to finish growing in.
Hole 8, Par 3, is in very good shape, has 1 tee box left that needs to fill in. Sits out in the open and the wind could have fun with your tee shot when it blows hard.
Hole 9, Par 4, this demanding dogleg left will be a tough finishing hole on the front nine, bring your big stick and hit it. The hole is in pretty good condition for play.
Hole 10, Par 3, previously a par 4, the hole has been shortened but will play tough especially to a back right pin. During my tour on a Sunday morning, the maintenance staff was out top dressing this green. But it looked pretty good.
Hole 11, Par 4, this straight-away hole looked in good shape and is about ready for play right now.
Hole 12, Par 5, dogleg right still has a couple of grow in spots, especially back left of green.
Hole 13, Par 4, has a great bunker pattern and will be a fun hole, if you avoid the sand. This hole is in very good shape.
Hole 14, Par 4, this tight hole is not driver friendly, and a back pin here will be a challenge, hole has a few rough spots yet, but not too bad.
Hole 15, Par 5, I love this Par 5, good wide fairway and golfers should get a tailwind from the west on most days The green is well bunkered. It's condition is pretty good.
Hole 16, Par 4, a tee shot over wetlands to a fairway that splits the trees and and the creek running down the right. A possible signature hole. A small area in front of the green in a valley area, needs some work but won't take long
Hole 17, Par 3, this former short par 4, is now a Par 3, that plays just under 200 yards from the tips. The hole is in great shape and could be played today.
Hole 18, Par 4, this hole has a few spots to grow in near places where trees got taken out, one area near front of the green (About a 10 x 15 yard area) needs some touch up. But new tee boxes here will make this hole fun to play, for those who want to finish on a good note.
The expanded putting green is coming in nicely and so is the driving range, now complete with a fairway, practice bunkers and chipping greens. A new trailer is on site for when the course opens so there will be a 19th hole. There is some general landscaping to be done around the property, and some tree trimming to be done on several holes. All will be in place by opening day.
The DCFPD is hoping for a new clubhouse to be opened for use at some point in 2019. The county has started the process by working with Dan Wohlfeil who has done several other area clubhouses, including the newly completed clubhouse at Mistwood Golf Club in Romeoville that has opened to rave reviews.
What I didn't find in my tour of The Preserve was a bad hole, and for that a tip of the cap or golf visor to architect Greg Martin and his team.
While I don't speak for the county, from what I saw it appears that before the end of July The Preserve should be open for some limited golf. I plan to report more after I tour the course again around July 20th. Until then follow updates on DuPagegolf.com.