THE PRESERVE at Oak Meadows coming this summer, stay clicked in here or visit DuPagegolf.com MIKE MUNRO & JIM MCWETHY invite you to try the Green Street Grille in Bensenville, now open for business. 120 W. Green Street #Eatatgreenstreet       ______________________________________________________________________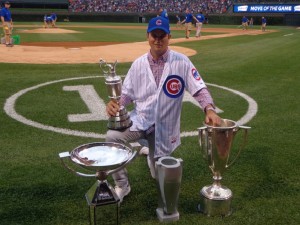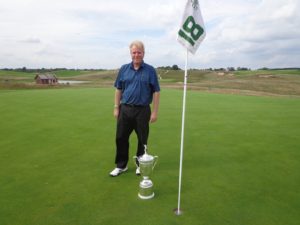 ZACH JOHNSON has the hardware at Wrigley Field (L), the trophy is coming into sight for a handful of golfers at the 2017 US Open. The Gog Blog by Rory Spears, follow Rory on Facebook, Linkedin and Twitter@GogBlogGuy. On the 18th green at Erin Hills.  _____________________________________________________________________
REPORTING FROM ERIN HILLS… Zach Johnson's third round 68 left him in s better mood, in fact he says it was one of his best rounds of the year. He finished strong and made a solid birdie on 18 to end the day. His position on the leader board went from 50 something to 20 something. Nothing like moving day at the US Open.
With the way the scores went in the afternoon, Johnson doesn't have a chance to win the US Open this year, but he does have a chance to be in solid form by the time the John Deere Classic comes along.
After winning the British Open in 2015, Johnson was playing some if his best golf since winning the Masters a few years earlier. But Johnson was one of a handful of players who jumped equipment companies at the end of the year, and he jumped to the PXG group headed up by owner Bob Parsons.
But what Johnson didn't do, was allow the Parsons people to work with him on the equipment change and make the most of it. Once he did that, the change has started to take off. Johnson didn't make any excuses on Saturday after Round 3 at the US Open, in fact he took full blame for the rough start with PXG.
Click here to hear the interview with Zach Johnson after his third round at Erin Hills.
Johnson says he will play at Hartford before taking a couple of weeks off, he will be well rested as he comes into John Deere Classic Week starting on July 10th. Johnson will be looking to win his second John Deere Classic title next month, and he continues to serve on the tournaments board of directors.
For tickets and information on the John Deere Classic, do visit Johndeereclassic.com.