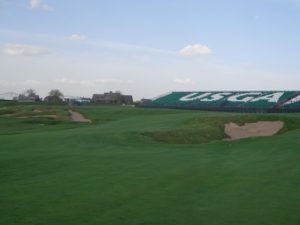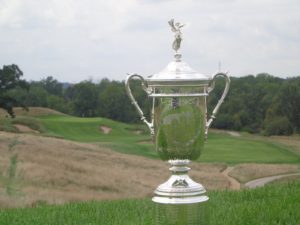 THE 117TH US OPEN IS UNDERWAY at Erin Hills in Erin Wisconsin. The 18th hole and bleachers (L) and the US Open Trophy on 15 (R) USOPEN.com for more details.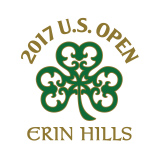 THE US OPEN the 117th edition is underway and Rickie Fowler at 7 under par after Round 1 is the leader. Yes even under par a 65, since this years par is 72. Paul Casey is one shot back at 6 under with a group of players at 5 under par.
Steve Stricker, Wisconsin's very own is at 1 over par 73, after he started birdie-birdie and was quickly 2 under par, but Stricker gave it back with bogeys on holes 3 & 4. Jordan Niebrugge also from Wisconsin also shot 73.
Some of the worlds top players had troubles with Erin Hills. Jason Day needed a birdie on 18 to avoid shooting 80, he carded 79. Rory McIlroy was only 1 shot better with a 78. Defending Champion Dustin Johnson was 3 over par over the last four holes to finish with a 3 over par 75.
" I simply did not putt very well, I missed a lot of good birdie opportunities," said Johnson. " That was the key. If I don;t three putt today I shoot even par. I did hit it well enough to day to shoot a good score."
Phil Mickelson did withdraw from the championship after realizing there was no way he could attend his daughters graduation and make his tee time. The Phil Mickelson announcement along with a blimp crash were the two big stories of the morning along with Fowler going very low. A blimp not affiliated with the USGA or Erin Hills or TV rights holder Fox Sports crahsed near the golf course, shortly after take off. The pilot suffered major burns after an explosion when the blimp hit the ground.
With the Mickelson WD, it marked the first time since 1993 that both Mickelson and Tiger Woods were not in a US Open field. Mickelson was replaced by 30 year old Roberto Diaz of Mexico, the first alternate at the Summit New Jersey sectional qualifying.
Fowlers 7 under par 65 tied the lowest first round score in US Open History. The other 7 under rounds were 63's shot in 1980 at Baltusrol by both Jack Nicklaus and Tom Weiskopf. The championship was won by Nicklaus. More recently both Dustin Johnson and Henrik Stenson shot 65's at Chambers Bay in 2015, but those 65's were only 5 under par.
With low scores on day 1, what will the USGA do, to make things tougher on day 2, we will see.
Click here to hear interviews with Rickie Fowler and Steve Stricker.
For more information on the US Open visit USOPEN.com