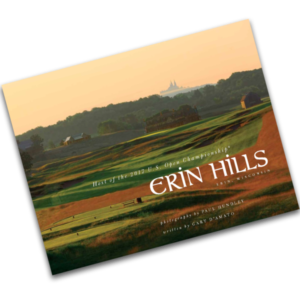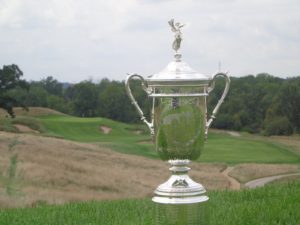 THE BOOK ON ERIN HILLS by Gary D'Amato, with pictures from Paul Hundley, book signing in the merchandise tent tomorrow 5-7 PM at Erin Hills. The US Open trophy on the 15th hole at Erin Hills, follow the US Open here, or at USOPEN.com or USGA.com.  _____________________________________________________________________
Home town guy Steve Stricker made no bones about it, he had to make the field at the first U.S. Open in his home state. He did.
His letter for a special exemption into the field was turned down by the USGA, so Stricker had no choice but to go qualify at a USGA sectional site in Tennessee.
The good thing for Sticker, the USGA and all his fans in Illinois and Wisconsin is that Stricker made it through, winning at 10 under par.
Stricker is one of the veterans at US Opens, he has played in plenty of them, but he had to play in this one, even at age 50. Regardless of where he finishes this is one week he will never forget.
Stricker opened round 1 with two straight birdies on holes 1 and 2, but then bogeyed holes three and four to fall back to even par.
Since then Stricker has fallen back to +1 after another bogey. He is now +1 with three holes to play in his first round.
His galley is a big one, and the state of Wiscosnin has come out in force to support him, hoping he will be here for all four days of the championship.
The Steve Stricker American Family Insurance Champions Tour event is next week in the Madison Wisconsin area, on the University Ridge golf course. That tournament as well should be a fun one.
Click here to hear the interview with Steve Stricker, as he talks about Erin Hills and his journey to get to the 117th US Open in his home state.
For more on Steve Stricker and the US Open, see USOPEN.com or USGA.com.