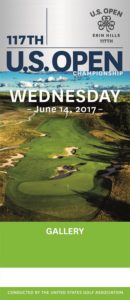 THE US OPEN IS UNDERWAY Round 1 at Erin Hills, see USOPEN.com for details on the 117th US Open. The first Midwest site in 14 years, and last Midwest US Open for at least 10 more years. Rickie Fowler's 7 under par 65 is the clubhouse leader in Round 1. _____________________________________________________________________
THE 117TH U.S. Open is underway, and this first timer in U.S. Open play is getting a lot of different thoughts from the players who are playing it.
The fairways at some 60 yards wide are something players and fans don't normally see, the players need to take advantage of it. If they don't, they will find some high fescue grasses.
The greens don't have many humps and bumps in them, which means we might see some long putts holded this week. Question is if the scores do remain low after today, what happens in Rounds 2-3-4. Will the Mike Davis team of Jeff Hall and the others toughen things up.
Click here to hear the US Open interview with Rory McIlroy.
Click here to hear the US Open interview with 2015 US Open Champion Jordan Spieth.
Stay clicked in as we cover the 117th US Open from Erin Hills all week long, and watch the for the interview with Steve Stricker.