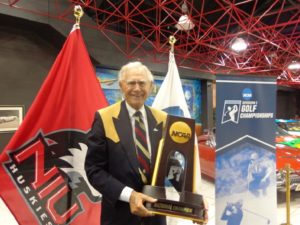 RICH HARVEST FARMS OWNER JERRY RICH INVITES EVERYONE to come see the Men's NCAA Golf Championships at Rich Harvest Farms through Wednesday. Well priced tickets at the gate or on line, parking is free. Cheer on your school or Alma-Mater ______________________________________________________________________
They are in the hunt again, the men's Illinois golf team that is. The Illini are sitting in in 5th fifth place, 4 shots behind leader Vanderbilt.
While there is no blame for Illinois being in fourth place, Junior Nick Hardy put it on himself for a triple bogey 8 on 18, after playing 17 good holes. The triple bogey left him a 3 over par 75 score, and Illinois not far behind.
Teammates Dylan Meyer and Edoardo Lipparelli seeing Hardy in trouble, both made birdies behind him to help the sting of Hardy's score.
Hardy said he knew he had 290 yards to the slope in the 18th fairway, playing into the wind he hammered his driver, but the ball still carried the ridge on the hill, and rolled halfway down the steep slope and ended up on the NCAA logo. Just trying to put his ball in play with a wedge, he skulled the ball into the weeds surrounding the creek. He did find the ball and could only hack it out a few yards. But his 4th shot to the green saw his ball covered in mud, fly the green and into the gallery. From there he pitched onto the green and then three putted. Not the way he expected to finish.
Regardless of how the entire Illinois story finishes out this week, Dylan Meyer is one heck of a gutsy player. At one point on Sunday Meyer lead the individual standings. When the day finished, he was T-2 three shots behind Scottie Scheffler of Texas. But that doesn't begin to tell the Meyer story.
Illinois golf fans were surprised when Meyer playing back in his home state of Indiana didn't play well at the regionals. Now we know why. It's hard to prepare from a hospital bed where Meyer spent three days. Meyer who have never spent a night in a hospital before was diagnosed with ulcerative colitis, an inflammation of the large intestine. Something he will have to deal with every eight weeks, maybe for the rest of his life.
Hardy went to the hospital every day, and tried to bring Meyer food and other things, but Meyer couldn't eat. So Hardy just snuggled up at the foot of Meyer's bed and let his teammate know he was there for him.
When Meyer returned to practice, the first day back he was the last to leave, something that doesn't happen often. That got Coach Mike Small's attention, who sat down with Meyer and simply told him that he could sulk about his situation or go back out and start making birdies. Meyer decided that birdies was the option he liked. He finished round 3 with a three under par 69, and after a pushed approach on 18, and a weak chip that left him a long 25 foot birdie putt. Meyer stepped up and drained it dead center and a large pro-Illini gallery on 18 erupted, including Illinois alum and PGA Tour player D.A. Points who was standing with the team. Meyers smile and fist pump said it all. Now he enters the last day of stroke play with a chance with a chance to win.
Click here to hear interviews with Illini Dylan Meyer, Edoardo Lipparelli, Nick Hardy and Coach Mike Small.
Lipparelli a sophomore also announced that the NCAA Championships would be his last amateur event, as he is turning professional this coming week, and will forgo his last two years of eligibility at Illinois.
Illinois will advance and play in the final day of stroke play on Monday with 14 other schools.