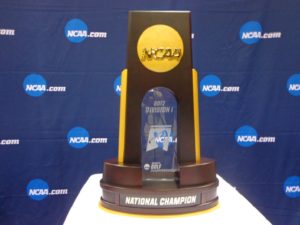 THE 2017 MEN'S NCAA NATIONAL GOLF CHAMPIONSHIPS ARE UNDERWAY at Rich Harvest Farms in Sugar Grove. Round three and the first cut down day are tomorrow, when the field shrinks in half. So come out and cheer on your school or Alma-mater. Well priced tickets at NCAA.com/Tickets and of course Parking is Free.      _____________________________________________________________________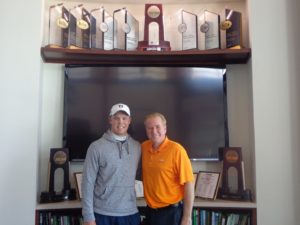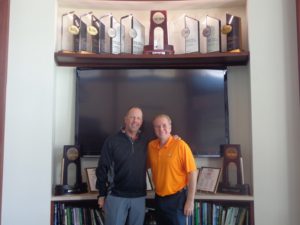 WITH ILLINOIS Junior Nick Hardy (L) and Illini Coach Mike Small (R). Follow Rory to Rich Harvest Farms and the NCAA Championships, on Facebook and on Linkedin and Twitter @GogBlogGuy. See the NCAA Championships at Rich Harvest Farms. #NCAA
With the first 36 holes in the book the University of Neveda Las Vegas (UNLV) holds a 1 shot lead over the Sooner of Oklahoma, with Illinois in third place just three shots back. Day 2 of the men's championship had warmer weather and sunshine for a change, but for the most part it didn't improve scores across the board.
Scottie Scheffler of Texas did shoot his second straight 4 under par 68 and sits a top the individual leader board with a 136 score. Scheffler's score only left the Longhorns in 12th place. Big 12 Player of the Year Doug Ghim of Arlington Heights bounced back on Saturday with a 2 under par 70, after opening with a +5 77 score. Playing as an individual Trent Wallace from Joliet who attends Illinois State University carded an even par round of 72, and sits at +1 (145).
FOR ILLINOIS, it was Dylan Meyer back in the saddle again after a sluggish regional. Meyer shot a 5 under par 67 that carried Illinois on day 2. Freshman Michael Feagles who had a 3 under par 69 in round one, had a four over par 76 (145 +1) for round 2. With with Meyer on the move and Nick Hardy grinding but at one under par, Illinois found it self in the hunt sitting just three shots back in third place. Oklahoma that had a great team round going on day day two, fell back with two of it's players played the tricky par 4, 17th hole in a combined 7 over par. Oklahoma is in second place between UNLV and Illinois.
After Sunday's round three there will be the first cut, that shortens the field from 30 teams to the top 15 and ties. On Monday the second cut will fall and the field will be reduced to just eight teams to start the match play.
The Golf Channel's live coverage starts on Monday, but will include of the match play format. There will be Elite 8 and Final Four play on Tuesday, with the championship match on Wednesday.  The Gog Blog returns to RHF on Sunday for more coverage.