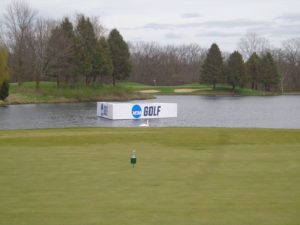 THE MEN'S 2017 NCAA GOLF CHAMPIONSHIPS from Rich Harvest Farms in now underway, tickets online at NCAA.com/tickets or at the gate. Free parking across the street, cheer on your school or Alma-mater. Championship runs through Wednesday.     ______________________________________________________________________
ROUND 1 DID NOT FINISH-Darkness
ILLINOIS is-3 and in a four way tie for 5th place. Michael Feagles leads Illinois at -4 through 14 holes.
Different week and it's the same story,one week after the Women's NCAA Championship started in the rain, the men rained in the very same problem.
The morning groups got finished, some of the afternoon groups were not so lucky. Those afternoon groups that did not finish included Illinois and Texas with Arlington Heights native Doug Ghim.
Joliet native and Illinois State Redbird Trent Wallace, who won the Missouri Valley title got off to a bad start being four over par through five holes. But in spite of a few more mistakes, Wallace rallied to a 1 over par 73 finish.
2015 Western Amateur championship winner Dawson Armstrong of Lipscomb College, who holed a miracle bunker shot to win at Rich Harvest Farms, rallied to shot a 1 under par 71. While on the clock on 18, and needing to finish the last hole in 8 minutes (he played it in 5) stiffed a wedge to 6 inches to make birdie and end his round.
Armstrong in an interview with Golfers on Golf said he told his teammates that Rich Harvest Farms is as hard a golf course as you want to make it. Armstrong called Rich Harvest, "quirky, but fun and hard."
Armstrong noted that just about any championship could be played at Rich Harvest Farms including a PGA or a Ryder Cup., saying the course can be set up real hard, or turned into a birdie fest.
Illinois had an adventure having to start and stop because of the rain delays that lead to an incomplete round, stopped at 8:10 because of darkness. the Illini have to restart round 1 at 6:30 AM and will get a 3:30 Am wake up call to be back on time.
Click here to hear interviews with Illinois Coach Mike Small and Junior Nick Hardy.
Vanderbilt leads at 8 under par with it's players on holes 15-18. Auburn is -6 and in the clubhouse. Oklahoma State is third at -5 with players on holes 15-18. #1 USC is 4th at -4 with players on holes 15-18.
Illinois sits in a four-way tie for 5th place with players on holes 11-14. Feagles has completed 14 holes.
Illinois tee times for round 2 run from 8:10 with Feagles out first, and Hardy out last at 8:54.