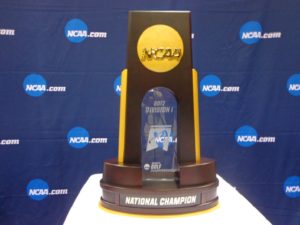 NOW IT'S THE MEN'S TURN, the 2017 NCAA Men's Golf Championship beings tomorrow at Rich Harvest Farms in Sugar Grove, come see your school or Illinois compete for the national title. Well priced tickets on sale now at NCAA.com/Tickets or at the gate. Parking of course is FREE. The championship is hosted by Northern Illinois.   ______________________________________________________________________
What a run, it came to an end at the end of the season, but Northwestern's Women's golf team gave it all they had, but came up a few made putts short in a 3 1/2 to 1 1/2 loss to Arizona State in the championship match.
But give the Wildcats credit, they earned the #1 seed in match play, the held off a scrappy Kent State team in the quarterfinals. Then they rallied in dramatic fashion to come from behind to defeat USC 3-2, and then as the fans wearing purple poured in they gave it all they had against the top ranked Sun-Devils of Arizona State. Arizona State won it's eighth NCAA women's title an NCAA record. But it's first since 2009.
It was as close as Northwestern had been to a national title in years, and when the word came down to the athletic department that it's women's golf team had pulled off a miracle rally vs USC to advance to the finals. The universities athletic director Jim Phillips ordered the sports department closed for the remainder of the day, and ordered everyone to Sugar Grove to help bring the ladies home with a title in hand.
Within an hour a sea of purple was seen speeding down Rt.88 headed for Rich Harvest Farms. The students, the alumni and golf fans in general were on their way, hoping that NU was on it's way as well.
"The support was something our girls were not used to, but in-braced it immediately" said head coach Emily Fletcher. " They weren't worried about a bad shot in front of everyone, and when a few our putts fell and everyone cheered and our kids loved it."
Click here to hear interviews with NU's Janet Mao, Coach Emily Fletcher, and Arizona States Monica Vaughn and NCAA 2017 Women's National Champion.
The matches started out close with Arizona State taking the early lead, then a few matches flipped towards Northwestern's way and the Wildcats briefly had a lead. But that didn't last.
Arizona States Olivia Mehaffey soon took control of her match and set the tone by defeating Sarah Cho 4&3. Individual champion Vaughn went back and forth with NU's Hannah Kim, but when Kim drained a 30 foot bomb on 17 she was 1 UP with one to play. Vaughn playing the champion she is birdied 18 to force the 19th hole. After both players tee's off on 19, they were in the middle of the walking bridge to the first fairway when the match was decided and there match ended A/S.
For Northwestern one bright spot in the championship matches was Sr. Kacie Komoto ending her NU career with a win over Sophia Zeeb by a 3&1 score.
But Roberta Liti defeated NU's Janet Mao 5&4 and Linnea Strom was a 5&3 winner over Stephanie Mao and those two matches gave ASU the crown.
If you were on property at Rich Harvest Farms during the title match, there was plenty of cheers that could be heard rolling through the grounds. If you were watching on The Golf Channel there was plenty drama to see. In fact so much even Coach Fletcher was anxious to get home and watch a replay of the match her team just lost.
While it would have been a rare national championship for Chicago's Big Ten Team, and for a moment it looked like the Chicago area would get a college title in it's own back yard. It just wasn't to be.
Coach Emily Fletcher will have 4 starters back and a few new good recruits. In the meantime winning a title at Rich Harvest Farms in 2017 now falls on the shoulders of the men from Illinois. That journey starts tomorrow.