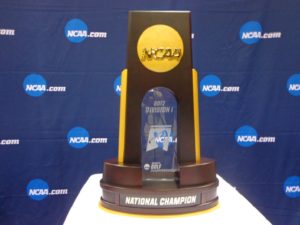 THE 2017 MEN'S AND WOMAN'S NATIONAL CHAMPIONSHIPS OF GOLF at Rich Harvest Farms in Sugar Grove. Tickets at the gate or at NCAA.com/Tickets. GO NU. Match play for the ladies starts today, the men's championship tee's off on Friday.           ______________________________________________________________________
They won, or did they. That's the feeling right now for the Purple of Northwestern.
Yes they won the stroke play part of the NCAA Women's Golf Championship for 2017, now it gets tougher as the match play part of the championship gets underway this morning.
For the first two days of the championship the battle was between Northwestern and Kent State. But Kent State fell back to the 8th seed, and NU is the #1 seed, so they get to go head-to-head in the quarterfinals. Winner advances to the final four, loser goes home.
With a three day total of 897, NU defeated Stanford by 8 shots to win the stroke play title and earn the top seed.
The other schools in the elite 8 are Arizona State and Florida, Stanford and Baylor, Ohio State and USC. Those are the other pairing for the quarterfinals.
Arizona States Monica Vaughn was the individual stroke play champion. It seemed like Jennifer Kupcho had the championship won. Sailing along and on the 17th hole with a two shot lead, Kupcho's approach found the water, toss in a three putt and Kupcho makes a seven. Now she is one shot down with one to play. Both Kupcho and Vaughn make pars on 18 and 9, so Kupcho ends up with the heartbreaking 1 shot loss.
Click here to hear the interview with Northwestern's Women's Golf Coach Emily Fletcher.
The NU coach is extremely happy with her team, a team Fletcher said at the beginning of the year she felt was #1, having all her players back. Fletcher said she would put them up against any team, but over the year her team failed to get all five players going strong together.
This week has been a different story, as contributions have NU right where they want to be headed into the match play.
Quarterfinal matches
7:50 NU Sarah Cho-Kent St. Kelly Nielsen                                                                       8:00 NU Kacie Komoto-Kent St. Michaela Finn                                                                 8:10 NU Hannah Kim-Kent State Wad Phaewchiplee                                                         8:20 NU Janet Mao-Kent State Karoline Stormo                                                                 8:30 NU Stephanie Lau-Kent State Pimnipa Panthong.
The semi-finals or Final Four tee off at 1:30. NCAA.com/tickets, see all the action.