College golf is heating up as the Road to Rich Harvest Farms is now packed with schools fighting to make it to Sugar Grove in May to compete for the national championship.
This weekend is no different as on the men's side, conference championships are being held across the country. For the B1G Ten, this years competition is on the Baltimore Country Club's East Course, called Five Farms. Illinois led by Dylan Meyer, Nick Hardy, Edoardo Lipparelli, have a 20 shot lead after 2 rounds. With 18 holes left to play.
The Illini shot -1 as a team in Round 2 that helped them open their lead from 13 shots up to 20, heading into the final round.
It was Edoardo Lipparelli who led Illinois with a 4 under par 66 in round two, after first round leader Dylan Meyer backed up from 63 to 73.
Lipparelli is the overall leader and Meyer is in second place, Hardy sits 7th after a 74.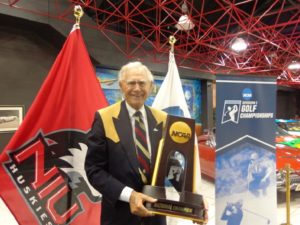 JERRY RICH INVITES GOLF FANS TO EXPERIENCE AND ENJOY the 2017 Men's and Women's NCAA Division 1 Golf Championships at Rich Harvest Farms in Sugar Grove, come enjoy the best in college golf, and see the future stars of the pro tours today up close and personal. Well priced tickets and Free parking, make this a family affordable event. The Women play from May 19-24, and the Men from May 26-31. Two final fours in two weeks. Tickets on Sale now at NCAA.com/Tickets support your school _____________________________________________________________________
Illinois got solid play from Giovanni Tadiotto 70-71, and he is tied with Hardy in 7th place, while Michael Feagles is in 24th place after a second round 69 (-1).
"I was very proud of our young players today," said head coach Mike Small. "It was a good team effort. We weren't as sharp today, as a team, as we were yesterday, we had a few unforced errors that we need to clean up. The way the freshman finished and the way Edoardo played today was the key to the day. I'm proud of them for that, as they stepped up and took care of business."
Northwestern and Purdue are tied for second place 20 shots back of Illinois (548) at (568). Wisconsin sits another 4 shots back at (572), in fourth place.
NU Coaches David Inglis and Pat Goss are liking what they see from the Cats who will battle with the Boilermakers for second place in the final round.
Ryan Lumsden with a pair of 69's (-1) is leading Northwestern. The men's regionals will be announced this Thursday, and Coach Small will be speaking at Wrigley Field before the Cubs and Phillies game.
THE LADIES..had their Regionals announced this past Thursday. NU Coach Emily Fletcher and her lady Wildcats are off to Athens Georgia, and the University of Georgia golf course. NU comes in as the #3 seed. Coach Renee Sloan and her Illini team are off to the University of New Mexico on the Championship Course at UNM. Illinois is the #8 seed and only 6 teams will advance to Rich Harvest Farms. UNM will have several top teams in it's field, and UNM could be the toughest road to RHF. Women's regional play will be held from May 8-11.
THE GOG BLOG RETURNS on Sunday with a recap of the Men's B1G Ten Championship at Baltimore Country Club.