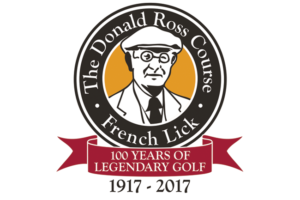 THE 2017 MEN'S AND WOMEN'S NCAA DIVISION 1 FINAL-FOUR'S AND NATIONAL CHAMPIONSHIPS May 19-31 at Jerry Rich's, Rich Harvest Farms in Sugar Grove. the Women play from May 19-24 and the Men from May 26-31. Well priced tickets on sale now at NCAA.com/Tickets parking of course is FREE. Come cheer on your school. The DONALD ROSS COURSE at the French Lick Resort is celebrating it's 100th Birthday, come enjoy the Centennial on this classic style golf course, Visit Frenchlick.com.             ______________________________________________________________________
Golfers on Golf Radio is back for Week #3, on Saturday morning at 9 AM, on AM 750 WNDZ.
Our guests include Chicagoland Golf Publisher Val Russell, and Gary D'amato writer from the Milwaukee Journal Sentinel.
Along with news from various golf events and the tours. The B1G 10 Men's Conference Golf Championship is underway at the Baltimore Country Club's East Course known as Five Farms.
Junior Dylan Meyer shot a 7 under par 63, and Junior Nick Hardy shot a 3 under par 67 as Illinois opened up a 14 shot lead over Ohio State and and 15 shot lead over 3rd place Purdue.
Tournament play concludes on Sunday, with 18 holes on Saturday and Sunday.
ILLINOIS GOLF HALL OF FAME, the finalists list has been made public, and due to ties there are 12 finalists this year.
They include. 1, Doug Bauman, 2. Emil Esposito, 3. Gary Groh, 4. Gary Hallberg, 5. Phil Kosin, 6. Greg Kunkel, 7. William Langford, 8. Carol Mann, 9. Francis Peabody, 10 Gary Pinns, 11. Horton Smith, 12. Len Ziehm. Final voting is on May 23rd at the Glen Club the home of the Illinois Golf Hall of Fame.
The KPMG Women's PGA Championship that will be played at the Olympia Fields Country Club the final week of June and Rounds 3 & 4 on July 1-2. has announced that Czech golfer Klara Spilkova has accepted a sponsors exemption into the field. Spilkova has won one tournament in play over-seas.
Tickets for the championship are on sale now. Come out and see the championship live on the Southside.
It's a great opportunity to Olympia Fields one of the great clubs in the Chicago area, and in all of America.
For tickets see KPMGWomensPGA.com of look for the championship on social media sites like Facebook and Twitter.
IT'S outdoor Demo day at Cog Hill today Saturday from 9 AM to 3 PM, event will be held rain or shine. Come hit the clubs by all the major manufacturers, discounts for those who purchase and buy while at demo day. Check with the equipment reps and Cog Hill pro staff for more details. See Coghillgolf.com. Callaway-Titleist-Taylor Made, Ping and more.
Join us on the air, tee time is 9 AM, at Am 750 WNDZ. The Gog Blog returns tomorrow.