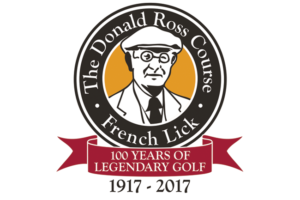 THE DONALD ROSS COURSE turns 100 in 2017, and the French Lick Resort has launched the Sr. LPGA Championship for this July. Find out how you can come enjoy all great things happening this summer in Southern Indiana, please visit Frenchlick.com.     ______________________________________________________________________
It's always a good time in golf when something new comes along, and in women's golf something new is headed to the first tee at the French Lick Resort.
This July the Sr. LPGA Championship, the first ever senior women's major championship will start a new chapter senior women's golf.
Today is media day at the French Lick Resort, and the gathered group will find out more about what's to come.
The is a Symetra Tournament on the front end of the Senior Championship that will help build the bridge between the two groups. Some LPGA players could play in a pro-am that runs in between the two championships, but more to come after today.
TIGER WOODS, is done again for the year after his fourth back surgery, that and four knee surgeries his camp admits he had, some say as many as eight. The real question is Woods done for good. I would say not yet, but if this surgery doesn't get it done, then it will be time for him to call it quits. If the surgery takes hold, Woods might compete for a title on the PGA Tour in the right event on the right course. But another major does seem out of the question.
PARS UNDER THE STARS, clubs looking for a fun event should try and put together a night golf evening with glow in the dark golf balls. While I have not played in one of the recent events, I did try this one night while in high school on the course where I worked in Prospect Heights, Rob Roy. The game for our group didn't last long, because we ran out of painted glow in the dark golf balls. But it was fun while it lasted. Foxford Hills in Cary is having such a night on May 13th, it runs from 5:30 Pm to 10 PM you need to sign up by May 5th, and to do so call the pro shop at (847)-639-0400.
ICYMI.. if you missed Golfers on Golf Radio last Saturday morning, Jim Richerson the Director of Golf at Kohler, who also serves as the national secretary of the PGA of America, and now a rules official at the Masters joined us. Among all the good stories and information that Jim had for us, he did remind us that all the courses in Kohler are now open for the season, including Whistling Straits. See Destinationkohler.com.
DEMO DAY at Cog Hill comes up this Saturday starting at 9 AM, all the major golf companies will be present, come check out all the new equipment. Discounts on club purchases if you buy that day after getting fit.
THE GOG BLOG returns tomorrow, with more. RS