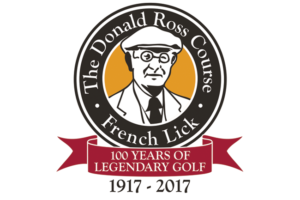 THE DONALD ROSS COURSE CELEBRATES 100 YEARS IN 2017 at the French Lick Resort, Frenchlick.com for details and golf specials all summer long. #Donaldisthedeal.  THE GREEN STREET GRILLE NOW OPEN and under new management. The Green Street Grille brought to you by the Two-Dome guys, Golf Dome Guys that is. M&M Munro and McWethy. See Greenstreetgrille.com. Part of a new downtown Bensenville.     _____________________________________________________________________
Golfers on Golf Radio returns for week #2 today at 9 AM on Am 750 WNDZ. Our guests this week include Greg Billie from the Illinois Patriot Education Fund, that will be hosting it's annual charity golf outing at Medinah Country Club on May 30th. Illinoispatriot.com Support our Illinois Veterans.
Jim Richerson the Director of Golf at Kohler Company, joins us to talk about everything golf and more in Kohler Wisconsin. The Kohler Beer fest is next weekend. Richerson is now the PGA of America's national secretary, and recently served as a rules official at the Masters Tournament.
The Ben Hogan award will be presented at a Black-Tie dinner at the Colonial Country Club on May 22nd, during the Dean and Deluca PGA Tour event.
Semi-finalists for the award include both Dylan Meyer and Nick Hardy from the University of Illinois Men's golf team.
On Wednesday May 3rd the field will be trimmed to the three finalists who will attend the dinner.
Illinois Coach Mike Small said," it's a great honor for both Nick and Dylan to be recognized in this manner. They have a had a great season so far."
ILLINOIS WOMEN are in 7th place at the B1G Ten Conference Championship tournament at TPC River bend in Ohio. Better news for Northwestern Women who are leading the championship by 3 strokes over Wisconsin.
ILLINI Men playing in the Ohio State Invitational today and tomorrow.
KEMPERSPORTS and the Kemper Club announced the dates for the fourth annual KemperClub Championship. The annual event takes place September 2-4, on two championship courses, including 2015 U.S. Open site Chambers Bay, and the Home Course home of the 2014 USGA Public Links Championship. For further information call (877)-29-LINKS or see Kemperclub.com.
PURDUE UNIVERSITY needs volunteers for it's upcoming NCAA Men's Golf Regional from May 15-17. Volunteer sign up at www.purduegolf.com/2017-Regional-2.html.
FOXFORD HILLS is back with it's Glow in the Dark, "Par's Under the Stars." It will be held on May 13th from 5:30 to 10:00 PM.  Deadline is May 6th, cost is $70.00 per player and comes with a tasty Italian dinner. Call (847)-639-0400 to sign up.
GOLF 20/20 recently had it's day at the state capital of Florida in Tallahassee. Golf's impact on the state of Florida was reported in 2015, that in 2013 the number was up to $8.2 Billion up from $7.5 in 2007. The golf industry in Florida supports 132,000 jobs and 43.6 Billion in wages. Floirda is home to over 1,000 golf courses, more than in any other state. More information at Golf2020.com or wearegolf.org.
We are live at 9 Am, join us then on Am 750 WNDZ-Chicago.