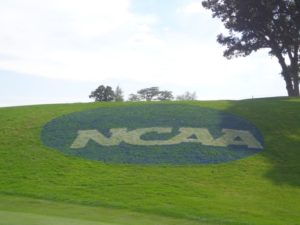 THE 2017 MEN'S AND WOMEN'S NATIONAL GOLF CHAMPIONSHIPS ARE COMING TO RICH HARVEST FARMS FROM MAY 19-24 THE WOMEN, MAY 26-31 THE MEN TEE IT UP.  Well priced tickets are on sale now at NCAA.Com/Tickets. Hosted by NIU.   ______________________________________________________________________
The Illinois PGA has finally announced the second course to be used for the 2017 Illinois Open.
Briarwood Country Club in Deerfield has been named to join the Glen Club in hosting the state of Illinois' golf championship.
The states history books will have some action this year, as the Glen Club will host for the tenth time, more than any other golf course. Briarwood returns after a 51 year absence. The last visit to Briarwood saw long time Illinois PGA Professional Emil Esposito win the title, his first of two titles (1966-1974).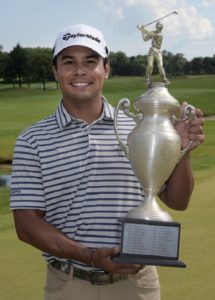 IPGA Executive Director Carrie Williams (L) and defending Illinois Open Champion Carlos Sainz jr. (R).
"We are thrilled to announce two outstanding championship sites to host the 68th Illinois Open Championship," said Carrie Williams, executive director of the Illinois PGA. "the Glen Club has been a longtime partner of the IPGA and is home to our Section headquarters, and Briarwood has both a tremendous history and a membership and staff excited to welcome back the state championship of golf. The two courses will provide challenging play and their close proximity to one another will ease logistics for players, fans, sponsors, staff and officials."
The field  for the fourth year is 264 players. A majority of the field will need to qualify in one of eight qualifying events that will be held between June 26 and August 3rd.
The Illinois Open will be contested started on August 7th, with round two on August 8th. On those two days when rounds 1 & 2 are played, both courses will be in use. After round two the field will be cut to the top 50 players and any player within ten shots of the lead.
All remaining players after round two will be olay the Glen Club for the third and final round.
Briarwood was first opened at the Briergate Country Club in 1921, and was designed by the famed architecture team of Colt and Alison. The club was renamed in 1958. It now plays to a yardage of over 6,900 yards and to a par of 71.
The qualifer schedule is as follows: #1 June 26, at Willow Crest. #2 June 30, at Ravisloe. #3 July 5th at Maple Meadows. #4 July 11th, at Red Tail. #5 July 17th at Bartlett Hills. #6 July 19th at Makray Memorial. #7 July 26th at Deerfield. #8 August 3rd at site that is still TBA.
For more infomration visit IPGA.com.