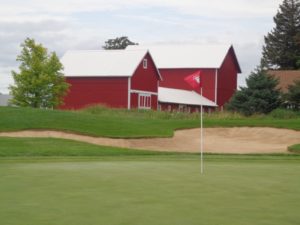 THE NATIONAL CHAMPIONSHIPS OF DIVISION 1 COLLEGE GOLF coming to Sugar Grove and Rich Harvest Farms from May 19th through May 31st. Come root on your school or your alma mater. Tickets moving quickly at NCAA.com/Tickets. 1st green (R).  _____________________________________________________________________
Titleist custom putter designer Scotty Cameron has created a new version of his classic Newport Putter.
This new style is a tear-drop shaped, heel shafted mid-mallet, that has both a look and feel that golfers should enjoy, especially if they are familiar with the feel and style of a Scotty Cameron putter.
The Newport 3 line of putters are now in retail golf stores and pro shops around the country.
With the addition of the Newport 3, Scotty has added a heel-shafted mid-mallet with a flow neck (3/4″ offest) for players who prefer a stronger toe-flow in their putting stroke.
Cameron has built a vibration dampening system, that connects the milled aluminium face inset, with a stainless-stell body, that creates a feel and feedback, that Scotty calls "soft, but solid."
Cameron adds these thoughts on the new Newport 3.
"Fans of our classic, heel shafted mallets like the Del Mar 3.5 and the GOLO 3 will love the melt-into the ground, flowing lines of Newport 3. When you look at the entire Select family, the Newport 3 is the perfect, curvy small mallet that just fits in conceptually between the Newport 2 Notchback and the mallets. We've extended the methodology of our proven multi-material technology to include the aircraft grade aluminum inlay, which allows me to design more of the weight into the sculpted back flange, as well as get the sweet feel the inlay produces. The result is an extension to the Select family that pulls together the entire line."
The grip is the Red Matador Mid-size grip developed to offer the comfort of a larger grip while giving the player the responsiveness and feel they are looking for. The finish is called "Silver-Mist" that projects a unique glass bead blast for a radiant, yet glare resistant, appearance. Tour inspired graphics mix the familiar three bright red translucent "cherry-bombs" with an engraved style that presents to this new high-tech line of Cameron putters.
Prices in authorized Titleist shops are $379 MAP ($410 MSRP). For more information visit Scottycameron.com or Titleist.com.