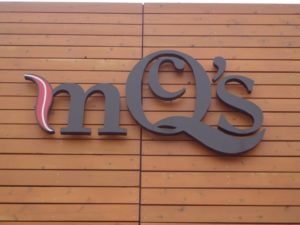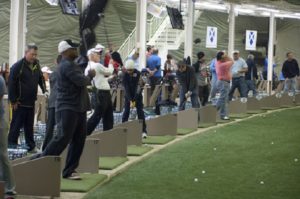 MCQ's Dome is your place to get your game ready, warm weather will be here soon and you will need to go outside and play. So grab a lesson, get fitted for a new club or clubs so your golf ready when summer arrives. Mcqsdome.com or (630)-739-1592.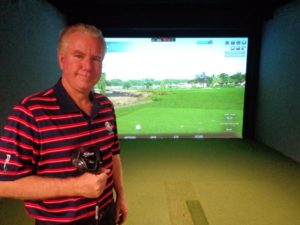 SCHAUMBURG GOLF CLUB at 401 N. Roselle Road in Schaumburg has the latest and greatest in golf simulators, now you can play Top 100 courses from around the world, while dining at Chandlers Chop house right upstairs. So hit inside now, so your ready to hit it outside when warm weather arrives. Schaumburggolf.com (847)-885-9000 ______________________________________________________________________
THE GOG BLOG BY RORY SPEARS, EDITOR & DIRECTOR OF CONTENT                 Follow Rory on Facebook, Linkedin and Twitter @GogBlogGuy.
                                                                                                                                                                    YOU HAVE HEARD of Driver vs Driver, the Wilson Golf reality show on the Golf Channel, now there is Golf Ball vs Golf Ball. This contest won't be decided on the golf course, it will be decided in a court of law.
The golfball business has been competitive for a long time, and lawsuits are not new to this part of the golf industry. The latest battle is between Costco, and it's golf brand the golfball Kirkland-Signature that it launched last year, and Acushnet Titleist, that uses the slogan "The #1 ball in Golf."
That, Titleist is, not only in nationwide sales but on various professional tours. While Titleist has several types of golf balls. It's top seller is the Pro-V1 and Pro V1x golf ball that is considered by most golfers and professionals, as the best ball on the market.
The biggest difference between the Costco ball and a Titleist Pro V model, is cost. At one point in 2016, you could buy a dozen Costco balls for $19.95, and through some promotions, get two dozen for $29.95. The Titleist Pro V line sells anywhere from the upper $30-something range to over $50, depending on where you buy the balls and whether the Pro V's have a specific logo. Most of the year a dozen Pro V's will cost you in most retail stores or pro shops, at just under $50.00 a dozen.
Currently, some golf courses in the Chicago area are doing a spring promotion with Titleist, one that has been run in previous years, where golfers get a FREE dozen Pro V's with the purchase of three dozen Pro V's at regular or full price.
The current legal battle stems from Titleists parent company Acushnet, sending Costco a "strong letter" saying Costco had violated certain Acushnet golf ball patent rights in selling the Kirkland-Signature golf ball. Costco has responsed with a lawsuit filed in Seattle against Acushnet-Titleist. Numerous golf media outlets have requested comment, but have not received any response from either side.
When Costco began selling the Kirkland Ball, and it began to receive strong reviews from those in the golf industry, the demand for Kirkland balls sky rocketed. Some reviews called their performance on the level of golfballs of the Pro V line.
Costco has no history in making golf balls like Titleist does, Costco bought Kirkland-Signature from an overseas company that makes balls for other golf companies, including Taylor Made.
While Costco for the time being has taken the Kirkland Signature golf balls off it's website, it would like to start selling them again in the future. At what price is unclear.
Industry experts say that golf ball companies have applied for an extemely large amount of patents in recent years. Not only to protect what they already have, but to safe-guard themsleves and the path of where their R&D departments are taking them in the future.
Many in golf have thought for a while that at some point, a company will find a way to make a golf ball on the performance level of the Pro V1 and Pro V1x, and will be able to sell it for a cheaper price. Now we wonder, has that day arrived, and will the answer come from the U.S. court system instead of on the golf course.
Locally, Mistwood, Blackberry Oaks and Cog Hill have announced they are running the promotion of buy 3 dozen and get a 4th dozen of Pro V1's or Pro V1x's for No-Charge. Many other area courses will likely run the same promotion in the short future.