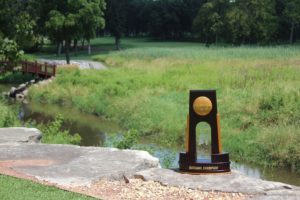 THE NCAA MEN'S AND WOMEN'S GOLF CHAMPIONSHIPS AT RICH HARVEST FARMS IN Sugar Grove IL., From May 19-24 watch the women and from May 26-31 see the men battle for the ncaa trophy and right to say National Champion. Tickets on sale at NCAA.com/tickets. The championship is hosted by Northern Illinois University.     ______________________________________________________________________
THE SNOW IS almost gone, even from my neighborhood where last week about 10 inches of snow fell.
The good news is that some 905 of it is gone, and I expect the last 10% out of here in a few days.
More good news is the bad snowy weather of last week, allowed our firends who have great indoor golf options to do a little more business before the golfers take it outside for the spring and summer.
That being said, I would like to thank our winter sponsors who stepped up big in the cold and snowy months and supported our recent work. To Dan Phillips at Mistwood/MCQ's Dome in Bollingbrook, a couple of my favorite places to hit golf balls year round. MCQ's is also a great place to "pound the ponies" in the OTB, and watch Blackhawks Games, since MCQ's is an official Blackhawks Bar. McQ's new menu and the MCQ's burger is really good. McQ's Dome is located at 730 N. Bolingbrook Drive in Bolingbrook (RT.53) visit Mcqsdome.com or call (630)-739-1592.
McQ's Dome will be with us this week, and then we will soon be welcoming back Mistwood Golf  Club located on Renwick Road in Romeoville. Home of McWethy's Tavern and the Phil Kosin Illinois Women's Open in July.
Tonight at McQ's you can watch the Chicago Blackhawks who are playing good hockey right now, taken on the struggling Colorado Avalanche.
The new simulators at Schaumburg Golf Club, give the club year round golf atmosphere.
Special thanks to Jon Parsons at the Schaumburg Golf for the clubs winter support of this website. It will be a busy year at Schaumburg GC, located at 401 N. Roselle Road, starting June 5th, a 3 year renovation begins of all three nines and the practice area. On the food and beverage side, Chandlers Chop House at the club is a great place to drink and dine. For more infomration visit Schaumburggolf.com or call (847)-885-9000.
I'll have more on the Schaumburg GC renovation in the months ahead, golfers should love the improvements they will see.
It was with great sadness to learn of the passing of Janet Leach, who worked with the State of Mississippi and was in charge of bringing in golf media and people who could help pass the word that Mississippi is a great place for golf and more. Many of the golf writers across America got to know Janet over the years and all of us are better people for it. All of us had our eyes opened to golf on the gulf…Mississippi.
I met Janet and golfed with her twice back in 2015 during a golf media trip there to the Gulf (or Golf) Coast of Mississippi. What a wonderful person, she was never given enough time to enjoy her retirement, but one thing is for sure. There will be plenty of golfers who will enjoy golf in Mississippi because of Janet. RIP Janet Leach.
Mississippi has over 62 miles of coastline on the Gulf that runs between New Orleans and Mobile Alabama. Mississippi's Golf Coast has over two dozen courses designed by many of the top names in golf course design.
The Preserve by Jerry Pate is a must play down along the coastline.
Jack Nicklaus, Arnold Palmer, Davis Love III, Tom Fazio and Mark McCumber, Tom Bendelow. Welcome to the "Golf Coast."
If you enjoy action on and off the golf course, Mississippi is the third-largest gaming destination in North America. The area has a dozen casino's. But the gulf or golf coast has plenty do to if your traveling with non-golfers or junior golfers who can quite get in the casino.
If your headed south for spring break, visit the newly launched website GolfCoast.com and look to play some of the great Mississippi gulf coast courses like Grand Bear by Nicklaus, Shell Landing by Love III, Great Southern Golf Club, built on land once owned by Confederate States President Jefferson Davis. The Oaks Golf Club, Diamondhead Country Club and Windance Country Club.
The Gog Blog wishes you happy spring travels as we get ready for the regular golf season opening of our local clubs and courses.
The Gog Blog returns on Tuesday. RS