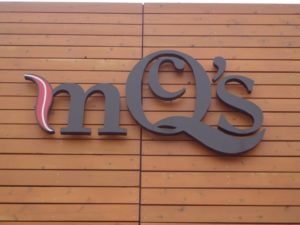 MCQ'S DOME IN BOLINGBROOK on Rt. 53 is your one-stop place for golf, horse race betting, and great food and drink. McQ's is part of Mistwood Golf, and the Mistwood Pro's are there for a few more weeks until the performance center opens up at the golf course. Currently enjoy the new menu at McQ's, new hotdog and drink bar behind the tee line at MCQs an official Blackhawks bar. See McQsdome.com or (630)-739-1592.     ______________________________________________________________________
It's always a wonderful day when the new golf shoes arrive, and the golf courses have not opened yet, or have just opened for the season.
There is plenty of time to break them in on the spring turf, so there is no blisters on your feet, by the time the real golf season hits full swing.
Did you know that Foot Joy the #1 shoe in golf, has created even more new lines that will make walking around even more enjoyable on and off the golf course.
Hyperflex, Contour and DNA are all shoes that take comfort, and reduction in wear and tear to a new level. Better support and dry feet are among the features that these Foot Joy shoes bring to the table. You can put them on and wear them to the level of comfort by tightening up the laces, and or snuging up via the Boa Lacing System.
 (L) The FootJoy Contour-FIT, Synthetic Saddle and Full Grain Leather Vamp. (R) The FootJoy Versa Luxe, spikeless, with a Suede Heel Pocket, and leather design.
Foot Joy has now created shoes that all golfers of any size and age can enjoy. Want that older classic leather style and design, it's there for you. If your needs are modern with color, comfort and a total athletic show design, Foot Joy has that as well. But what Foot Joy is now creating has gone beyond just shoes.
Do you need socks to go with those new Foot Joy shoes?
Well you have come to the right place, because Foot Joy does make socks that fit well with their shoes.
Now you can enjoy the classic fit in a TechSof Tour sock, that gives golfers maximum cushion and comfort, support and moisture control.
If your looking for more in foot support, the FJ Tour Compression Sock not only keeps your foot dry, it's targeted compression with better arch support in key stress areas, helps circulation and reduces swelling in your feet.
So if your ready to swing into the 2017 golf season, with your feet bringing joy to your face, try Foot Joy. The #1 shoe and sock in golf. More information see Footjoy.com.