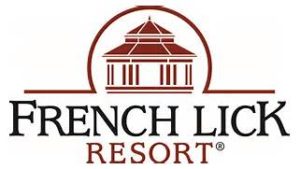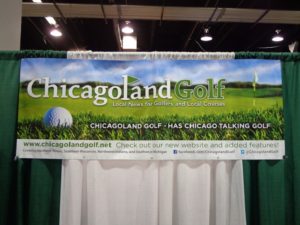 THE FRENCH LICK RESORT, in historic French Lick Indiana, home of the famed Pete Dye Course and the Donald Ross Course that's celebrating it's centennial year. The LPGA arrives in July with the Sr. LPGA Championship. See Frenchlick.com for details.   ______________________________________________________________________
The Chicago Golf Show was held from Feb. 24-26 in Rosemont at the Donald Stephens Convention Center.
If you attended, did you take time to get your picture taken with the NCAA Championship Trophy. Did you hold up a sign with the logo's of your favorite schools.
If you look left at the picture you can see what one local golf media guy, is hoping for in terms of the national championship match.
During the golf show both Tim Raines, a former member of the Chicago White Sox, entering the Hall of Fame this sumer, and Ryne Sandberg already a Hall of Famer and former member of the World Champion Chicago Cubs, came out on the weekend to meet the golfers.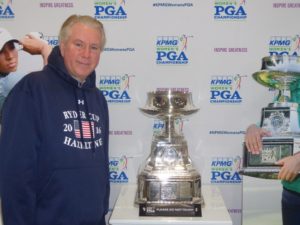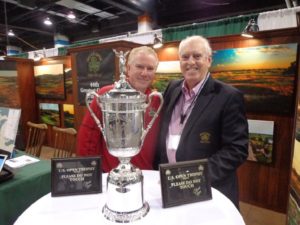 Did you get your picture with the championship trophies, or (R) with Erin Hills Golf Ambassador and golf professional Rich Tock. Erin Hills will host the 2017 U.S. Open this June, visit the USGA website and get your tickets now.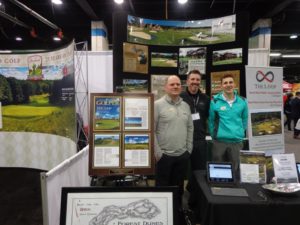 Have you played Forest Dunes Golf Club in Roscommon Michigan yet, or it's second and or third course, the Reversable Course called "The Loop" by Tom Doak. Play it clockwise as the Black Course, and Counter-Clockwise as the Red Course. Much like they did at the PGA Merchandise Show in Orlando, Callaway Golf continues to be on the move. The new Big Bertha Epic Driver continues to open eyes for golfers of both sexes and with golfers of all playing abilities. The numbers of golfers playing the Epic Driver on various professional tours continues to grow. In fact many professional golfers not even under contract to Callaway or with Callaway than can play any driver they want, have started to hit the Epic. The Great Big Bertha Epic-Driver, play what Phil plays, put an Epic with jailbreak technology in your bag. Breakout with Epic.
Lead by Brad Syslo the Grassroots manager at Wilson Golf, the Wilson Triton Driver was having it's day at the golf show.
It was nice to see how many people were stopping to hit the Triton. The Triton for those of you who have been "kind of" keeping track, is now fully USGA street and golf course legal.
Kevin Streelman for one, is now playing the club on the PGA Tour.
To all of the destination properties from surrounding states and downsouth, we encourage everyone to go visit, and get a variety of what golf courses around the county can be. "Variety-the spice of life."
We hope you enjoyed this years Chicago Golf Show, and you invited to visit Chicagogolfshow.com for information on the dates of next years show. See you there.