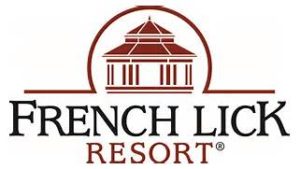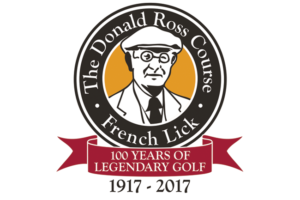 THE FRENCH LICK RESORT, is serving as the presenting sponsor of the Chicago Golf Show this Friday-Saturday and Sunday Feb. 24-26 at the Donald Stephens Convention Center in Rosemont, doors open at noon tomorrow. See Chicagogolfshow.com and to plan your stay at the French Lick Resort, see Frenchlick.com Donald Ross Course #100 _____________________________________________________________________
 CALLAWAY'S BEST  Paul Schlimm (L) and Dave Neville (R) show off the newest line of the Callway BIG BERTHA DRIVER..THE EPIC, breakout of what your hitting, and bust it past the rest the rest of your favorite foursome with EPIC, an entire new concept in drivers. Play what Phil Mickelson plays-play the Epic, see Callawaygolf.com for more ______________________________________________________________________
What made the PGA Merchandise Show last month, was the arrival of some new drivers.
Callaway won the battle by producing the new Epic Driver. Complete with what's called "jail break" technology the new Epic Driver is one that could find the top of your golf bag.
The Great Big Bertha-Epic and it's new technology comes from research that wasn't originally intended for the new driver, it came a the results of something else that Callaway was working on. Give the folks at Callaway credit for making a real something, out of what could have been nothing.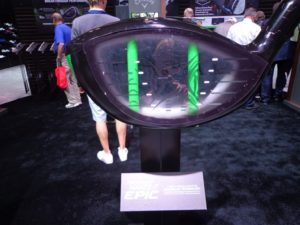 The Callaway Great Big Bertha Epic Driver, shines off it's new Jail Break technology.
Click here to hear our interview with Callaway's Dave Neville, on the new Callaway Great Big Bertha Driver-Epic. Blast through the bars.
Big Bertha Epic benefits from the Speed Step technology, which goes back to the aerodynamic products Callaway created in partnership with Boeing. The new big bertha creates better swing speed for further distance and better accuracy.
EDITORS NOTE *** The Gog Blog has held but not hit the new Epic driver yet, and will have more to say once we do.
For more information on the driver that was the #1 driver played on the LPGA Tour season opening event, and has gained numbers of players on the PGA Tour and European Tour, visit Callawaygolf.com.