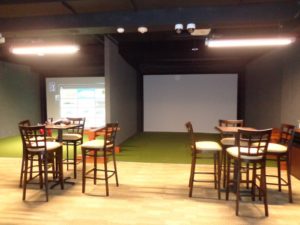 THE SCHAUMBURG GOLF CLUB 401 N. Rosell Road in Schaumburg, is now a year round facility, complete with new golf simulators on it's lower level. You can now play Top 100 courses, by yourself, or in a group. Grab a lesson, get a fitting, and while you golf enjoy food and drink from Chandlers Chop House upstairs. For details or to book your simulator time, Schaumburggolf.com of call (847)-885-9000. Golf season is here.   ______________________________________________________________________
With the success of Pinehurst #2, that now includes bold looking waste area's, more yardage and a rotation of par between holes 4 and 5, Pinehurst Resort is now announcing a change to it's # 4 course.
Architect Gil Hanse the designer of the olympic course, and lead architect on several other Top 100 courses, gets the nod for the restoration of this Donald Ross original design. Upon the completion of the course 4 work, the course will have more of a course #2 look and feel to it.
Hanse's work will not stop with just a course #4 restoration, Hanse will create a nine-hole short course of par 3 holes, that will range from about 60 yards to just over 100 yards. The course will have greens that will allow Pinehurst members and resort guests to get creative, and practice different shots around the green, before they head out and play courses 1-9. This course will be done on just 10 acres.
In order to create the short course there will be some restoration work on courses #1 and #3. These adjustments on courses 1 & 3 will help return the courses to the original visions of Donald Ross.
The work will begin this October and is expected to be completed with the course reopened for play in the fall of 2018.
"There's a unique character at Pinehurst because of the landscape Donald Ross found when he arrived in 1900," said Bob Dedman, Pinehurst owner and CEO. "Back then, he may have been a minimalist by necessity, but we're making a choice to present our historic golf courses in a natural state similar to that era."
In addition to the work on courses 1, 3 and 4, the overall plan also calls for work to be done on Maniac Hill, Pinehursts driving range, the first range in America. The resorts putting course Thistle Dhu, will be moved closer to the clubhouse and expanded. Allowing for more golfers to come and enjoy this experience. (For additional comments on this project from Pinehurst President Tom Pashley see our previous story).
"The overwhelmingly positive feedback we received from the work on No.2 encouraged us to explore options that are a continuation of that effort," Dedman said. "We think this is a thoughtful approach to the evolution of golf at Pinehurst, and we think Gil Hanse, with his timeless and natural design philosophy, is the right person for the project."
"We think this approach will create a more authentic, visually interesting golf course and one that feels in tune with its unique surrounds," said Hanse. " A playable, artfully shaped and conceived golf course that derives it's character and appearance from the traditional golf flavor of this region is what we aspire for in our approach to Pinehurst #4."
"Fun and skill development are the most important concepts behimd the short course," said Pashley. "Whether you're and avid amateur, a beginning golfer, or on and outing with friends or family, the short course will offer an experience that can be enjoyed by all."
"While Pinehurst is the country's most historic golf resort, we're constantly evolving," said Dedman. "The opening of the short course next fall, along with this summers opening of the Deuce brings a new level of energy and excitement to the Pinehurst experience."
Pinehurst is located in the sandhills country of North Carolina, it has 9 courses more than any other american resort. For more information see Pinehurst.com or you can call (855)-235-8507. Remember, "it's always a beautiful day in Pinehurst."