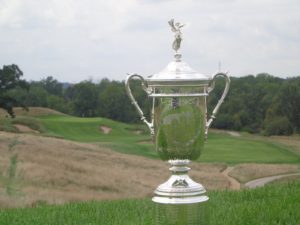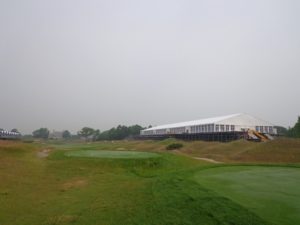 U.S OPEN AT ERIN HILLS NEXT JUNE-THE RYDER CUP AT WHISTLING STRAITS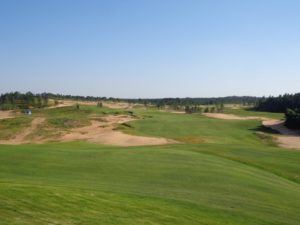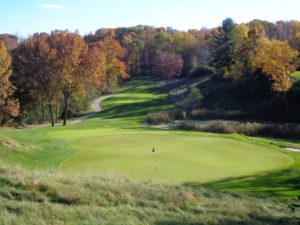 THE NEW SAND VALLEY RESORT COURSE-THE PAR 3 AT WILD ROCK RESORT
Who takes you to all of these Wisconsin Golf Destinations and more, meet Jason Kauflin at Wisconsingolftrips.com. The first Wisconsin golf trip operator of America's Dairyland. Kauflin will have you believing that Wisconsin, is the new Myrtle Beach of the Midwest.   ______________________________________________________________________
Every once and a while somebody gets an idea that just seems like it makes sense. Yes maybe this one will just work.
Meet Jason Kauflin a Milwaukee area resident with a plan, it's not a new plan really, but what he's selling just might be something a little new.
There are golf tour operators across the globe, but most of them want to take you to the same destinations. Scotland and Ireland have plenty of tour operators, so does Australia and the Far East. Around the USA how about a trip to Pebble Beach, Bandon Dunes and or Pinehurst, yep there are a few of those people out there as well.
You see Kauflin wants to sell you Wisconsin, yes Wisconsin. You know the place, cold snowy winters, shorter golf seasons in some years. But really nice in the summer, with more championship destinations of late than almost any place else, other than the over used New York City area.
In recent years and for years to come, the USGA, PGA, LPGA and the Champions Tour are wearing out Wisconsin. The U.S. Open will be near Milwaukee next June and the Ryder Cup hit's the Kohler area in 2020. What more can a golf fan ask for.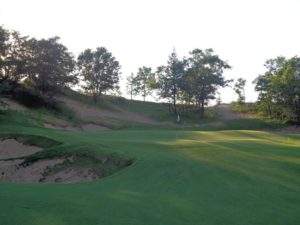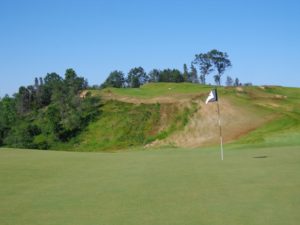 The 9th hole on the Sand Valley Golf Resort's Sand Valley Course (L) the Par 3, 5th hole (R).
Sand Valley Golf Resort is something golfers can ask for, and thanks to Mike Keiser and his group of founders it now exists. Throw in Sentry World, the Lake Geneva Area, the Bull at Pinehurst Farms designed by the Greatest Golfer of All Time Jack Nicklaus, and Wisconsin has plenty to offer, and Kauflin will make sure you see as much of Wisconsin as you would like to see. Wisconsingolftrips.com summer is just six months away.
What's that song say. On Wisconsin, On Wisconsin Yes it's time to get on to Wisconsin.
IT WAS FAIRLY FUNNY even hysterical to hear the Tiger Woods golf fans last week, Yes Tiger was back, and his back even held up for 72 holes of play, but Woods was running out of gas during round 4, and as the tour pro's say, leaking oil coming in.
HALL OF FAME GOLF WRITER DAN JENKINS put it best when he posted on Twitter,"I must have missed something, Tiger Woods beats two players in a 17 man field and I keep reading he won another major".
It's amazing that some golf fans think comeback #42 is on for Woods, it's not. He might play better this year then whenever it was he last played, which doesn't make much of a statement, but it's not likely he will win a major this year. A top 3 at a PGA Tour event would speak wonders.
PGA Touring pro Daniel Berger made reference on Twitter that the "Greatest of All Time" was back on the course, then one of the real greatest players of all time Gary Player called out Berger, and asked him if Jack Nicklaus was playing. Point-made. No the GOAT was not in the field this past weekend.
Before anyone appoints him as the favorite at Augusta this next April, let's settle down and let reality run it's course. I don't care what brands of clubs he is playing now, even though getting rid of some of his Nike clubs will help, even Taylor Made metals, a Bridgestone ball and a Scotty Cameron putter is not enough to save the day.
GET WELL WISHES to a few current and former IPGA professionals. In Pennsylvania former IPGA pro Mike Jones has shed his walker after knee and hip surgery, he is back on his feet with the help of a cane.
Immediate IPGA past-president Jim Opp is on the mend after back surgery, and Blackberry Oaks gm and head professional Chad Johansen is recovering from ankle surgery. During his upcoming six month layoff, it will interesting to see what Johansen invents next. Johansen has already invented the best putting aid on the market, the Perfect Putting Aid and The Guide for Golf. Try out each and improve your game.
THE SNOW is here and the bitter cold is about to arrive, it's dome season, so go inside hit the domes, and be ready for the warmer days ahead, or test out those new clubs that you will get or buy this winter. Now is the time for that.
THE GOG BLOG returns shortly, so stay clicked in. RS