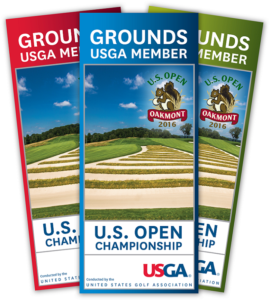 WHO NEED'S TWO …or more, or a tent. Two great national championships coming here to the Midwest in 2017. Starting in May at Rich Harvest Farms the NCAA men's and Women's National Championship's in back-to-back weeks. Experience two Final Fours and a lot of fun from May 19-31, NCAA.com/tickets. The U.S. Open makes a rare Midwest appearance at Erin Hills in June, get your tickets today at USGA.org/tickets.     ______________________________________________________________________
When one looks out the window and see's another sunny day that's a good thing, then when one see's the thermometer and it's only 34 degrees outside, and then looks at the date on the calendar, reality sets in. Outdoor golf season is likely over, and in the Chicago area that mean's it's golf dome season.
The golf domes in the Chicago area are pretty good, and there are several to pick from.
The old standard is the White Pines Golf Dome in Bensenville on Jefferson Street between York Road and Rt.83. The more modern domes are McQ's Dome in Bolingbrook, on Rt.53 north of the Stevenson (Rt. 55), and Links and Tee's on Lake Avenue in Addison. The Buffalo Grove Dome on Rt. 83 is always another option.
  McQ's Dome in Bolingbrook is part of the McWethy Golf operation that also includes the award winning Mistwood Golf and McWethy's Tavern at Mistwood in Romeoville. The Buffalo Grove Dome is part of the Buffalo Grove Park District.
 The Links & Tee's Golf Facility on Lake Street in Addison has opened the golf dome for the winter golf season, Links & Tee's is one the area's premier golf domes, and is a multi-time GRAA (Golf Range Association America) Award winner.
Now I'm hoping next week Mother Nature will give us a quick day or two of over 50 so we can play outdoor golf one more time, I'm keeping my fingers crossed.
THE WEEKLY ONLINE GOLF PUBLICATION GLOBAL GOLF POST, is out again this week and has a link to a scary story in the USA Today by Christine Brennan, regarding the USGA and the 2017 US Women's Open and the president-elect. If that's all Brennan can come up with, she can do the great sport of golf a favor and WD before she get's DQ'd. She has already missed the cut with many golfers, men and women alike.
ON THE MOVE and it's the Ziehm Machine.
BIG 3 partner Len Ziehm the name behind lenziehmongolf.com and yes there is a facebook page under that name as well, is on the move.
After spending a good chunk of the last five winters in sunny Florida, Ziehm decided to get closer to the action in the sunshine state.
Congrats to Len on buying a new clubhouse in Florida near the PGA of America Hall of Fame in Port. St. Lucie Florida. Ziehm has already attended the media day and written about the renovation of the Pete Dye Course (now reopened) at PGA Village on his website.
The only downside is that plans to install a backyard putting green have been hampered by a 8-9 foot gator that loves to reside during the sun-bathing hours in Len's backyard. Hellooo…critter control 🙂
Ziehm will be lodging during the cold months in Florida, and then coming back up to Illinois for over 4 months in the summer to remain on top of golf season in the Midwest. Len's work in the Daily Herald, Chicagoland Golf and the CDGA Magazine will continue.
ON THE MEND..Get well wishes to to former Illinois PGA professional Mike Jones.
Jones who wrapped up 8 years on Maui in Hawaii this spring, and came back to the mainland to take over as Director of Golf at the Nemacolin Woodlands Resort in Farmington PA., recently had some knee and hip surgery.
Rehab is underway and Jones reports that he will be 100% by April and back on the golf course. About 3 months ahead of the opening of the new Pete Dye Course at Nemacolin that is scheduled for a July 1st opening. The new course that sits next to the #1 you can play course in Pennsylvania called Mystic Rock, has been named Shepherd's Rock. For more information on this destination resort please visit Nemacolin.com.
IN PREPARATION for the holiday rush, if you are shopping for the golfers in your favorite foursome, and or in your life or family, please read our column from two weeks back on how to do it. Save yourself time and money by getting it right the first time.
The Gog Blog Returns this week, and keep warm everyone. RS