NEED 2, OR MORE well you can order your tickets to the 2017 NCAA National Championships of Golf right now, come and see the nation's best Men and Women's golfers at Rich Harvest Farms in Sugar Grove next May, see NCAA.com/tickets to purchase now. Sentio Putters are on the market, which one is for you Sentiogolf.com.     ______________________________________________________________________
IS IT OVER, that's the question golfers in the Chicago area are asking themselves this morning as the temperatures have plunged into the 30's.
Originally it was supposed to be a high of 35 today but now it should be 41, but even that is a little chilly for 18 holes. As a result some courses are not opening their doors this weekend.
Tomorrow is not supposed to be much better, with temps around the same and Monday has only a small improvement. I suppose there is a chance Mother Nature might open the window for a brief 36 hours of temperatures in the Mid-50's or even 60 yet, but before that happens it's likely most of the golf courses in the area will have closed for the winter. The golf domes and the proshops will be open, taking gift card or membership orders, or maybe selling off some leftover golf shirts and hats at discount prices in time for the holidays, do take advantage while you can. Cog Hill will hold it's big Christmas and Holiday sale on Saturday December 2nd, from 10-3 PM. Free wrapping if needed, plus you can't beat the holiday punch, and that's free.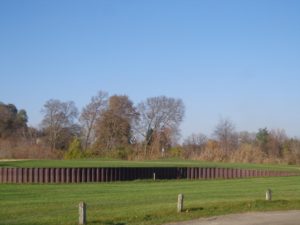 THE PAR 3, 12TH HOLE AT BLACKBERRY OAKS (L) and the Chad Johansen putting lab complete with a Perfect Putting Aid (PPA) inside of the Blackberry Oaks clubhouse.
I used some vacation days this past week to play 54 holes while that last blast of warm weather was with us. It was only the second time this year I got to play 3 straight days, it's amazing how quickly your game can round into shape when you play a few days in a row.
WEDNESDAY: Blackberry Oaks, Bristol. I ended a nine day drought of not playing by heading out to Blackberry Oaks, always nice to see Chad Johansen the GM and head golf professional at "The Oaks". I was at the grand opening of the course in 1993, and did not return until 3 years ago, when I got rained out on the sixth hole. By the time the rain stopped, a few holes were underwater so this time it was nice to get all 18 in.
Johansen is one of the up and coming stars of the local IPGA Section.
Not only has he moved up from assistant pro to head professional and now to general manager, but he has created two really helpful game improvement aids.
First up is the Perfect Putting Aid, and over 100 PGA Tour professionals have one, including the reigning champions of both opens.
I have one in my office and I'm not sure there is a better putting aid on the market, if your putting has struggled or the junior golfer in your family wants to take the next step towards a spot on the golf team, or towards a college scholarship, make sure they have a Perfect Putting Aid, available online or in the Blackberry Oaks pro shop that can be reached at (630)-553-7170. Perfectputtingaid.com is also and option.
Johansen more recently created the Guide For Golf, that allows you to pull up golf lessons via your phone or computer whenever or wherever you need them. If your somewhere warm this winter, and need a quick fix, you need to be subscribe to the Guide For Guide through Guideforgolf.com. which is another great Christmas or holiday gift.
Johansen has created one of the better junior golf programs in the Chicago area, and the Chad Johansen golf Academy is one way the kids are getting involved and getting better on and off the golf course.
THURSDAY: Schaumburg Golf Club, Schaumburg. I had not played Schaumburg Golf Club in some 15 or 16 years, I didn't remember much of the golf course but it's a facility that deserves more props from us golf media types. General Manager and head professional Jon Parsons and his staff have earned it, but somehow Schaumburg has flown under the radar a little bit in the big picture. But apparently not among area golfers as the club does near 55,000 rounds a year, after my recent visit I'm not surprised by that total. Off the course Chandlers Restaurant looks pretty good as well.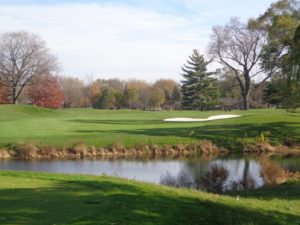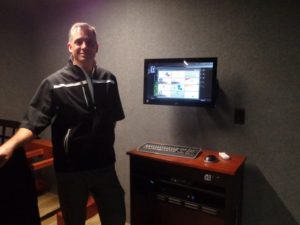 TOURNAMENT COURSE HOLE 6 THE PAR 3, and GM Jon Parsons showing off the new downstairs simulator and party area, open year round to help you get some swings in while the cold and snow are piled up outside all winter long.
In 2017 Schaumburg will start the first phase of a 3-year renovation program, nine holes at a time. The club is still working through the permitting program with county and Army Corp of Engineers so they don't know which nine (Tournament-Baer or Players) will start getting dug up in June of next year, but I expect that in three years, Schaumburg will be among the area's better public courses from top to bottom.  The course can be reached at (847)-885-9000.
FRIDAY: Prairie Landing Golf Club, West Chicago. I played the course in 1995 for the Grand Opening and ended up T-2 with a 13 under par score in a scramble, lost out to the team that had the mayor of West Chicago on it. After a long absence went back and played the course in 2008 with BIG 3 partner Len Ziehm, while the course was still nice not much had changed or been improved in 13 years. That is not something you can say anymore.
 THE NEW CART PATHS at Prairie Landing were just being finished yesterday and there is not a smoother cart path ride in the area (L). The new short game area in between the practice holes has added even more to the Prairie Landing Golf Club designed by Robert Trent Jones II.
Prairie Landings golf operation manager, JR Starnes has had an interesting season since taking over his position at the club. There were a few major staff changes and the year started with media types like yours truly reporting that the course was going to shut down for good.
Fortunately for Starnes and golfers everywhere that proved not to be the case. As a deal was reached and the company that had sought the land that is currently the golf course, no longer required it.
It was just two years ago, that a major bunker renovation was completed and there had been a major money commitment to keep improving the club. It would have been a shame to see all that go to waste.
When the good news about the club staying open for years to come, it was fun to be a part of spreading the good news.
Prairie Landing was a fun course to play my last outdoor round of golf for the 2016 season, if Mother nature doesn't let us back outside for another round or two before the snow arrives and we are celebrating the Christmas holidays.
It is always fun to play outdoor golf in December around Chicago, if for no other reason to look around and feel the enjoyment of playing golf in Chicago at that time of year.
Prairie Landing Golf Club that enjoyed it's 20th Anniversary in 2015, is not only a great place to golf, but excellent for banquets and special events. For more information on Prairie Landing call (630)-208-7600, or Prairielanding.com.
The three courses I played to maybe end the year of outside golf, all made me glad I had returned after not having played them in years, and you should visit courses you have not played a while including the three I above, even if it doesn't come until 2017. RS.