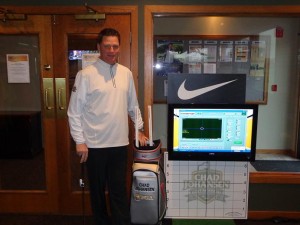 The White Pines Golf Club in Bensenville, 36 holes of golf and great food and beverage in 37's. Whitepinesgolf.com. Chad Johansen in the putting lab at Blackberry Oaks in Bristol, See Blackberryoaks.com and Chadjohansen.com for information on the Perfect Putting Aid and his new invention, Guide for Golf, take your next lesson with you ______________________________________________________________________
The 41st Ryder Cup is here, and the Hazeltine National Golf Club is buzzing with fans and it's only Wednesday.
The galleries will be huge and the emotion in the air. Team USA Captain and Phil Mickelson have already said the sqaud will be playing with heavy hearts after the passing of the "King" Arnold Palmer.
Flags outside the clubhouse are at half staff in Palmer's memory.
For Team USA, Hazeltine is the coming out party of it's new game plan to win the back the Ryder Cup, that it has not won since 2008 at Valhalla. For the European's they are looking for their 4th straight win int he Ryder Cup, but Captain Darren Clarke has six rookies on his team and veteran Henrik Stenson the "Open Champion" is playing on a sore knee that will require surgery in the days ahead.
John Deere Classic Champion Ryan Moore was the late addition to Team USA after a second place finish at East Lake in the PGA Tour Championship, that was won by Rory McIlroy who says he is ready for this week and excited about his game.
All three of the medalists at the RIO Olympic Games are here as well. Justin Rose who won the Gold Medal, Stenson with the Silver Medal and Team USA's Matt Kuchar who won the Bronze.
Mickelson was one of the many players who spoke today, but really captured the house with his comments about the Team USA plan to win, saying the USA can win and for his comments about the great fans in Minnesota and thoughts on Arnold Palmer.
What else is making news. Danny Willett the Masters Champion has had to deal with questions about comments made by his brother that ripped american's and the american golf fans. Willett had to be confronted on the golf course by Captain Darren Clarke about his brothers comments.
Willett released a statement and thanked american's who have really supported him since he won the "green jacket". Willett said he spoke with his brother as well and then USA Captain Davis Love III, who accepted Willett's explanation.
Not much news on pairings yet, but more to come right here at Golfersongolf.com so stay clicked in. I'm covering the championship all week long. RS