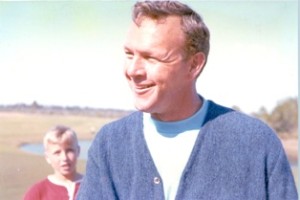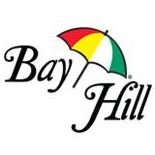 Arnold Palmer at Bay Hill back in it's early days, Bay Hill Lodge and Resort home of the Mastercard Championship. Palmer passed away earlier today at Age 87.
ARNOLD PALMER'S last Pre-Tourney press conference at Bay Hill prior to the championship, March of 2015.
Arnold Palmer "The King" has passed away at Age 87, details are unfolding.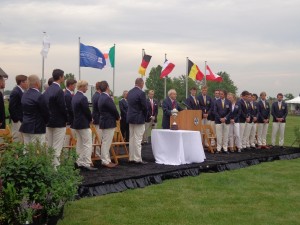 Arnold Palmer speaks before the Palmer Cup at Rich Harvest Farms in June of 2015.
Jerry Rich owner of Rich Harvest Farms on Palmer's passing.
"This is a real loss for golf, he was an icon and a very special person. I will remember him telling all the players before the Palmer Cup, that when they turn professional and are making a lot of money, to remember their roots, the towns where they came from, where they learned game and to give back."
BY RORY SPEARS…
Arnold Palmer was a special person, not only a golf icon, but special person off of it as well. There are plenty of people today who know how to act and what to say, because that how Arnie would have done it. You take your hat off inside of a building, men hold the door open for lady, it's simple stuff like manners that's all.
There are plenty of sports figures, athletes, and folks in the public eye who have made millions in the world of corporate endorsements, well they can thank Arnold Palmer who made a living at it long before anyone else did.
These days it's not uncommon to go into your favorite golf club or watering hole and order an Arnold Palmer, who ever thought that a mix or Lemonade and Iced Tea would become such a popular drink, well it did and maybe because it's known as an Arnold Palmer.
Palmer wasn't dealing with the heat well over the last week or two, so he was taken into the University of Pittsburgh Medical Center (The UPMC). It's not clear yet what the doctors there discovered, but Palmer was due for a heart operation on Monday.
I had the privilege of meeting and talking with Palmer on several occasions and I will never forget them.
One year in the early 90's Palmer golfed with Michael Jordan at Stonebridge Country Club in Aurora during the Ameritech Senior Open. Around 18,000 people showed up for a pro-am, that alone is amazing.
After the round both Palmer and Jordan had press conferences, when Palmer was done Jordan started his, long time Chicago reporter Jerry Kuc and I sat with Palmer as Jordan talked about the day. I'll never forget Kuc asking Palmer if Jordan had a chance to be a pro golfer one day, Palmer smiled and shook his no. We knew right then MJ had better stick to hoops.
During the 1997 Sr. Open at Olympia Fields, Palmer upset with his putting during Round 3, came over to a small putting green on the backside of the Olympia Fields clubhouse. Kuc again was the first to notice him and stopped to watch, soon came your's truly and then others, and more and more. The green was surrounded, 1-deep then 2-deep, then 3-deep. Arnie's Army around the putting green was bigger than the gallery following the leader, it's stuff like that you don't forget.
I remember interviewing Palmer at Kemper Lakes in 1989 at the PGA, 1988 at the Sr. Open at Medinah. You don't forget those moments. I do remember a 1997 U.S. Sr. Open hat I had Jack Nicklaus and Arnold Palmer autograph, it raised a lot of money at a golf outing for Children's Memorial Hospital in Chicago.
You could't help feel in awe when you were around The King, on the course even in his later years there was still "the army."
As I head to Hazeltine for the Ryder Cup this week, I can only imagine the atmosphere that will be there. Win one for the King, well at least it should be. Let's hope they do.