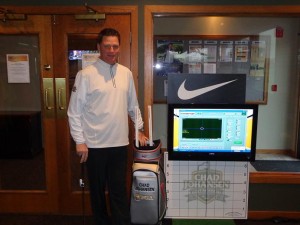 THE WHITE PINES GOLF CLUB home to 36 holes of golf, and banquets that bring memories for years to come, see Whitepinesgolf.com. White Pines in Bensenville between Rt. 83 and York Rd. (R) General Manager, golf professional, leader of the Kids that Rule and Golf Swing-Aid Inventor Chad Johansen, has created the aids that every golfer needs. The Perfect Putting Aid, used by over 100 PGA Tour professionals, has now given way to his "Guide For Golf" golf video's of instruction when and where you need them. See ChadJohansen.com or find him at Blackberry Oaks GC in Bristol IL.    _____________________________________________________________________
Dateline Casey, Illinois. The small Illinois town of Casey continues to make the Guinness World Book of Records.
Jim Bolin of Bolin Enterprises in Casey and his team have set several records, the most famous golf record is the building and design of the World's Largest Golf Tee.
In the last couple of weeks a new book by the folks at Guinness have featured those who are the main record breakers around the world. Bolin is among them. Meet The Record Breakers is now in the stores, find your copy at your favorite place to buy books, perhaps Bolin and his team could build the world's largest golf ball, golf club or even golf course, lets hope they do.
LET'S GOLF ALL DAY & ALL NIGHT are your ready for Night Golf. There is now the belief that golf doesn't just have to be played during the day time. Raise the money, raise the revenue, for more on how to make your facility Night Golf friendly, or to get the new LED Golf balls contact Phil Immordino, President of NGTA (Night Golf Tournament Association) and see ngtaa.com or call (602)-524-7034.
The 2017 KPMG Women's PGA Championship that will be contested from June 27-July 2 at the Olympia Fields Country Club, is now looking for volunteers for the championship.
Adult volunteers ages 22 and older are required to work four shifts and contribute at least 16 hours in total. Junior volunteers ages 14-21 must work at least three shirts and contribute at least 12 hours. Shifts last between three and four hours.
All volunteers do receive a uniform that consists of a golf shirt, outerwear piece, and headwear, a credential that allows for grounds access from Tuesday through Sunday. the volunteer fee is $130 for adult volunteers and no fee for junior volunteers. For more information see kpmgwomenspga.com/volunteer or you can contact the championship office at (708)-966-0370 or 2017WPGA@pgahq.com.
BIG CEDAR LODGE RESORT in Hollister/Branson Missouri is proud to announce that it's Buffalo Ridge Springs Course has been named Best in State by Golf Magazine. the former branson Creek Golf Club has made solid progress on and off the course since being purchased by Johnny Morris, CEO of bass Pro Shops and Big Cedar Lodge.
For more information on Big Cedar Lodge see Bigcedar.com or call the golf shop at (417)-339-5430.
The Gog Blog Returns on Monday. RS