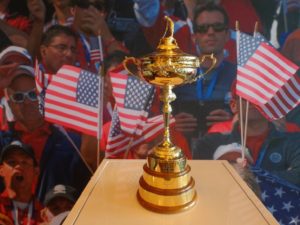 THE WHITE PINES GOLF CLUB  in Bensenville has 36 holes of golf and the 37th hole for all your before and after round food and beverage activities, try 37's today. For more information see Whitepinesgolf.com. The Ryder Cup coming this week, Rydercup.com.  _____________________________________________________________________
THE FINAL PICK of TEAM USA made by Captain Davis Love III will take place on NBC's Sunday night Football at Halftime of the Game.
Talk about a cross promotion, while there might not be much to see football wise by halftime, at least the pick might be interesting. Or it might not be, there are some in the golf world who already wonder what Love is doing with his picks. Is it the best players right now, who can putt. Or is it the guys in the boy's club. We will see.
Following the announcement, the PGA of America will put out an official release to the media, with comments from Love and player selected. For more information please visit RyderCup.com, or on social media @RyderCupUSA on Twitter or on Facebook or Instagram.
FOR SALE..once regarded as one of the hottest new properties in Illinois, the Weaver Ridge Golf Club of Peoria is now up for sale.
This Hurdzan and Frey design sits in rolling hills and forest valleys. There are spectacular homes in the area's off some of the golf holes.
The clubhouse offers a fantastic banquet facility and serves some of the best food you will find in any 19th hole ( Awesome Quesadillas). For more information please contact Chris Charnas at Links Capital Advisors at (847)-866-7192 or via email at chris@linkscapitaladvisors.com or on twitter @linkscapital.
They're Out and in the pro shops as of now, the latest an greatest from custom putter designer Scotty Cameron.
Cameron's latest line of Titleist putters is called Cameron and Crown.
They are shorter putters for those who need lengths of 33 inches instead of 35 or 36.
You can get them in right handed or left handed designs and in different styles. See Scottycameron.com or you can visit Titleist.com.
Coming in October is the new Titleist Driver the 917 series. A full story right here will be coming soon. Stay clicked in for more details.
Fall golf specials and events or scrambles are happening all over in the next few weekends, check them out. RS