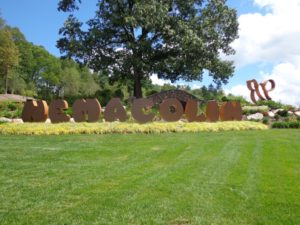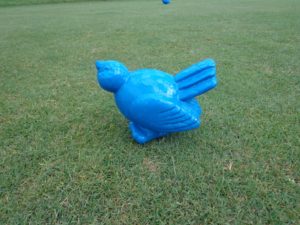 NEMACOLIN WOODLANDS RESORT, in Farmington PA., who is Fat Bird (R), to find out see Nemacolin.com. 18 Pete Dye Holes Open for Play, 18 more on the way. #2017.  _____________________________________________________________________
Week #20 is on the card, and posted in the handicap computer. Special thanks to Ed Stevenson who tee'd it up with only half a voice.
Bill Berger and Rory Spears rounded out the threesome, as Mike Munro had the weekend off.
Val Russell, Publisher of Chicagoland Golf and Tim Clark the President of Wilson Golf joined the show this morning. The new September issue of Chicagoland Golf will coming out this week to golf courses and golf retail stores in the area. Wilson Golf will be launching a short-run series on the Golf Channel in October called "Driver vs Driver", it's a contest to design a new Driver for Wilson Golf, the winner or winning team will win $500,000. The driver will go on sale on Black Friday in time for the Christmas and Chanukah Rush.  Wilsongolf.com for more details.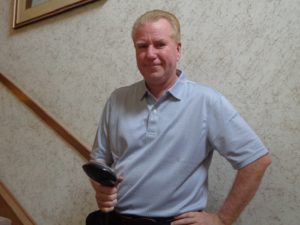 Marshall Mancillias (L) President of Carnoustie Golf Sportswear, and Golfers on Golf Editor Rory Spears show off Carnoustie Golf Products, including the new fall line. For more details, Carnoustiesportwearonline.com. More on Carnoustie golf coming up this week. Available at several Chicago area golf clubs and in Pennsylvania visit the Nemacolin Woodlands Resort in Farmington.
The 24th CDGA Mid-Amateur takes place this week at the Flossmoor Country Club in Flossmoor. Chadd Slutzsky is the defending champion.
The championship is for those players 25 years of age and older.
The format is that the field will play 36 holes this Tuesday, and a cut will be made down to the remaining 35 players and ties, for a third round of 18 holes that will be played on Wednesday.
The Luke Donald Taste of the First Tee will be held on Monday Sept. 12th starting at 5 PM at the Medinah Country Club.
Luke's special guest this year is 4-Time major champion Rory McIlroy.
There are different levels of tickets and sponsorship's, so contact the First Tee of Greater Chicagoland at the offices in Glenview at the Glen Club for more details. Come and enjoy great food and taste some of Luke's custom designed wine.
Just in case you missed it.
The Ryder Cup trophy tour is on the move starting tomorrow morning on the Today Show on NBC.
The good news for Chicago area golfers is that there are two stops in the Chicago area, and a couple more stops in the Midwest.
First up right here in town is a stop on Sept. 7th at Cog Hill, contact Cog Hill for arrival time. On September 16th the trophy will visit the Cubs-Brewers game at Wrigley Field game time is 1:20 PM. On the 17th the trophy will visit Notre Dame Stadium for the Michigan State-Notre Dame football game.
On September 2nd the Ryder Cup will visit 2020 Ryder Cup site, Whistling Straits in Kohler/Haven Wisconsin. The Gog Blog Speaks Out, returns tomorrow. RS