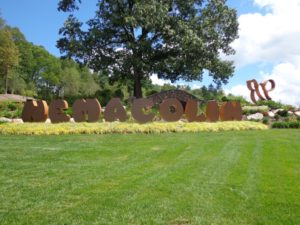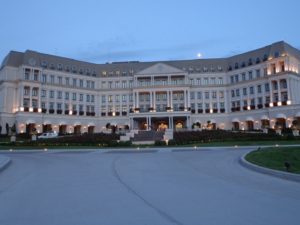 NEMACOLIN WOODLANDS RESORT in Farmington PA., Home of the Chalet, a 5-Star Hotel. For more on this resort and Pete Dye Nemacolin Golf, see Nemacolin.com.           ______________________________________________________________________
I must admit, just when you think you have a handle on the golf resort scene across America, you visit a new property and realize you don't.
Somehow, someway I missed a great property just south of Pittsburgh, called the Nemacolin Woodlands Resort in Farmington PA. Farmington isn't all that far from the West Virginia state line if your looking for it on your map or atlas.
Farmington is not only as some would call it, "pretty country", but it has it's history and other things to offer.
I really do have to thank former Illinois PGA professional Mike Jones the resorts new Director of Golf for opening my eyes to something or someplace that is pretty darn good and it's only going to get better. Trust me. The mountain views are spectacular and they might even beat some of those great ocean views Jones had while working at Kapalua, Maui, Hawaii. Having been to Kapalua some 8 or 9 times myself, those volcano's and white sand beaches aren't bad either, but they are a warmer place to be in the middle of winter. But not the place to go for snow skiing.
My three day visit to Nemacolin got more enjoyable by the day, and was capped off with my first ride in a Bentley on the way back to the Pittsburgh airport. What a way to end a golf and destination resort experience, and I won't forget that trip ever.
Next summer when that new Pete Dye course opens at Nemacolin, the golfers will be flocking to get there. Be sure your make your tee time in advance, 36 holes and a double dose of Dye. Stay with us here on the Gog Blog for updates on the new Pete Dye golf course and Nemacolin Woodlands Resort, new course construction, always a good thing.
20 year-old Curtis Luck of Australia is your new U.S. Amateur Champion, defeating Brad Dalke in the 36 hole final match by a score of 6&4, at the Oakland Hills Country Club in Bloomfield Hills Michigan.
The match was All-Square after 18 holes, but Luck who in the end didn't need any, pulled away early in the second 18. It was Dalke who took a 1 UP lead on the 19th hole, but then Luck went on a roll and won the next 8 holes in a row which decided the competition.
Locally Arlington Heights native Doug Ghim who plays on the University of Texas golf team, advanced from stroke play into match play, but lost his second match in the round of 32. Former Illinois Open champion David Cooke, did not advance to match play after making a nice run in the amateur last year at Olympia Fields.
A great effort was put on by Dylan Meyer the Indiana native and member of the University of Illinois golf team. Meyer after winning the Western Amateur, advanced to the Elite 8 before losing a match. Congrats Dylan.
The U.S. Amateur these days is only awarded to courses that have or will host a U.S. Open Championship, Oakland Hills has hosted the U.S. Open and would like another. Real question is, when will they get one. Next open date is in 2027, hopefully the USGA saw what they needed to look at the Midwest again as a future site for the U.S. Open.
THE PGA TOUR wrapped up it's regular season yesterday in North Carolina, with Si Woo Kim winning by 5 shots at 21 under par. While Chicago area golfers might not know Si Woo, they should know the player who finished in second place at 16 under par and that was NU alum Luke Donald. This finish was just what Donald needed as he vaults up to 48th in the Fed Ex Cup standings. Now he should make the BMW Championship at Crooked Stick. It was another good week for Illinois Golf as DA Points, Luke Guthrie and Scott Langley all made the cut and a check, even if they didn't make the playoffs.
OLYMPICS..sorry to say I just wasn't glued in to the Olympic games, and or Olympic golf. Congrat's to all who won medals, especially golf medal winners Justin Rose and amazingly Inbee Park who had been out injured with a thumb injury for month's. To work the rust off and win a golf medal is nothing but a great story.
I know everyone who is there called the experience special, and I'm sure for them it was. But the golf course didn't impress me as much as I thought it would. Gil Hanse and his team I'm sure did the best with what they had, but the course came across looking like another Florida-Muni. Maybe NBC didn't show the courses finer side. What impact golf in the Olympics will have on the sport going forward is hard to judge, but if there is a golfer winning majors in 10 years from Rio then maybe we will have the answer.
LEN ZIEHM spent the last few days at French Lick Resort covering the LPGA Legends event, his full recap is at lenziehmongolf.com where you can find out who won the championship in a playoff, and how local golfer Nicole Jeray finished.
DID YOU KNOW the fall line of golf clothes by Carnoustie Golfwear is out, I'll have more on the stylish golf wear of Carnoustie coming up this week.
The Gog Blog returns this week, with a news update and more. Stay clicked in. RS.