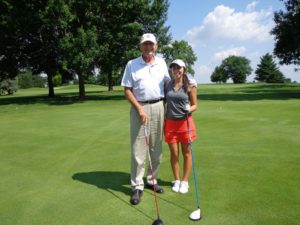 Jerry Rich welcomes Illinois Women's Open Champion Stephanie Miller to Rich Harvest Farms, site of the NCAA Men's and Woman's 2017 National Championship. Former Western Junior Champion Adam Wood, speaks about next weeks Western Amateur at The Knollwood Club in Lake Forest starting on Tuesday. WGAESF.org.      _____________________________________________________________________
The 67th Illinois Open has crowned Carlos Sainz. Jr. of Elgin the new Illinois Open Champion.
Nick Hardy of Northbrook who won the Illinois State Amateur last week at St. Charles Country Club, finished fourth, but was the Low-Amateur in the Open.
Sainz shot rounds of 67-65-65 for a 54 hole total of 197, that allowed him to win by five shots over Christian Heavens of Fairview Heights.
2014 Illinois Open Champion Brad Hopfinger was third seven shots back. Mistwood Golf Club's Director of Golf, Andy Mickelson headed up a group tied for fifth place. Past champions Eric Meierdierks was 8th, and Illinois Golf Coach Mike Small was tied for ninth. Defending champion David Cooke, tied for 29th.
Small had the distinction of playing round 3 with one of his future recruits to Illinois Tommy Kuhl, who has already declared an intention to attend the University of Illinois. Per NCAA rules Small was not allowed to talk about Kuhl. Kuhl ended up tied for 9th with Small.
In his post round press conference Sainz said, "several players made a run at me and didn't make it easy on me." After having a six shot lead early, Sainz right before the turn saw that lead shrink to three. But shortly after the turn is was back up six shots and Sainz was able to put things back on cruise control coming in. He ended up winning by five shots.
Click here to hear interviews with Illinois Open Champion Carlos Sainz, and low amateur for the championship Nick Hardy.
Hardy who made every putt last week in winning the Illinois State Amateur Championship with a score of 28 under par, called the Royal Fox and Royal Hawk greens a little different than the nearby St. Charles Country Club. Hardy said he just couldn't get his putts to fall this week. Hardy is looking forward to next weeks Western Amateur at the Knollwood Club in lake Forest.
Hardy and Cooke will both play in the U.S. Amateur Championship coming up in three weeks at Oakland Hills.
Dates for the 2017 Illinois Open and the site of the championship are still to be determined. The next major championship on the Illinois PGA Circuit is the section championship which will be played at Olympia Fields in August.