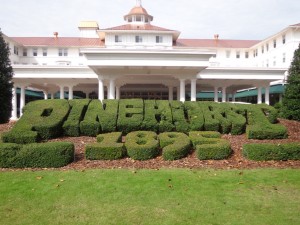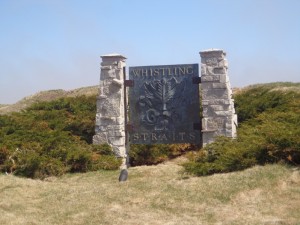 THE HISTORIC CAROLINA HOTEL IN PINEHURST part of the Pinehurst Resort, haven't been there, listen in Sunday morning when Alex Podlogar of Pinehurst joins Golfers on Golf Radio LIVE from Pinehurst, and visit Pinehurst.com. This week the PGA Championship tee's off from Baltusrol, but if your ready to challenge a PGA course, last years venue Whistling Straits in Wisconsin is ready for you. See DestinationKohler.com. ______________________________________________________________________
It should be a great day, the sun will be out and there is no rain in the forecast. It might be a bit warm, but in a few months golfers will wish for days like today.
Round 2 of the Men's Illinois Open will be on the courses of Royal Fox and Royal Hawk, players like Northbrook's Nick Hardy will be looking to win "The Open" a week after winning the state amateur.
After attending Round 1 yesterday, I'll be back for the final round tomorrow at Royal Fox. It should be good one. In between rounds 1 & 3, I'll be taking a break and hitting the golf course myself. Spending a day at Rich Harvest Farms (RHF) in Sugar Grove as owner Jerry Rich begins to roll out what May of 2017 will be like, when the Men's and Woman's NCAA Championships come to town at RHF.
What today should have been, was the day the International Crown was getting rolled up and put away after a successful week for golf, women's golf, and the the Chicago golf fans at Rich Harvest Farms.
But in spite of a nice Team USA win in the UL Crown, in Libertyville at the Merit Club, we are all left to think about what could have been.
The LPGA and the Rich family had a split last fall. Then after some three years of planning on how big this years crown would be, there was a late venue change in this major LPGA flagship event. After the change, the LPGA never treated this year's Crown like it was a big flagship event for women's golf. It never did get promoted correctly, there was no sign of of any Team USA players in town, and serious golf fans were still asking even last week, when was that women's golf event coming to Rich Harvest Farms this summer.
My visit to last weeks Crown saw small crowds, and no big on course presence of tents and other things that gave it the feel of a major international golf event. Instead it seemed like a small regular tour stop.
There wasn't a large crowd of young ladies that could be the LPGA players of tomorrow roaming the grounds. There were not large galleries of energized fans of decent from the countries in the field.
It wasn't a week of special events during the day, and a party like atmosphere around the town at night. There was just no buzz at all. It was the kind of thud or dud, that should make UL wonder, just what they got themselves into. Taking the Crown to Korea in 2018 should be better for the event, of course you knew it was going to Korea. The LPGA couldn't stop telling anyyone who would listen that they were going Korea in 2018. Korea 2018 was the theme even before there was a tee in the ground at the Merit Club, which by the way is located in Libertyville, the LPGA still thinks the Merit Club is located in nearby Gurnee.
In 2014 when I attended the Crown at Caves Valley, it seemed like this new event had a good launching pad. I expected 2016 to be much better, it just wasn't.
Rich's efforts to raise the event, an event he helped create to another level, just didn't get the support those efforts should have had from LPGA Commissioner Michael Whan and the LPGA.
For all the good Whan does for the LPGA, it became apparent there is still much more for him to do. Which includes being a little more visible in Chicago before his flagship events come to town.
Last week the LPGA announced the golf course in Korea they will play the Crown at in 2018. It will be the same Jack Nicklaus course that was used last year for the Presidents Cup, not something new that could have given golf fans from around the world another look into the booming world of golf in Korea.
What's still up in the air, is 2020. UL is still the sponsor and just under four years away nobody know's where the Crown is going, think about that for a minute.
The UL International Crown was supposed to be the launching pad of four great women's golf events in the Chicago area over a three year span. Next up is the KPMG/PGA/LPGA Championship in 2017 at Olympia Fields Country Club, the same event travels north to Kemper Lakes in June of 2018. One month later the USGA comes to town with the inaugural U.S. Sr. Women's Open at the historic Chicago Golf Club.
After what we saw last week, and what we didn't see in the month's leading up to the Crown. The LPGA needs a mulligan. RS