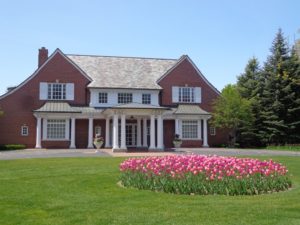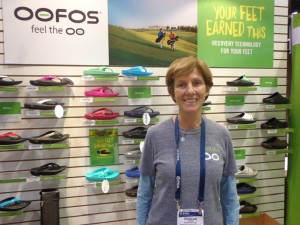 THE WESTERN AMATEUR AUGUST 1-6 AT THE KNOLLWOOD CLUB in Lake Forest, defending champion Dawson Armstrong is back in the field see WGAESF.com for more details. Duncan Finigan shows off the most comfortable footwear in golf OOFOS. Recovery Footwear great for golfers who like to walk or caddies. OOFOS.com. ______________________________________________________________________
The 67th Illinois Open has returned to the Royal Fox Country Club in St. Charles, with nearby Royal Hawk Golf Course serving as the second course.
Christian Heavens playing Royal Hawk shot a 6 under par 66, and is tied for the lead with Brian Carroll they hold a 1 shot lead over several players.
Defending champion David Cooke, still playing as an amateur shot 1 under par 71 in the first round of his defense.
Nick Hardy (a) who was red hot in his win last week at the Illinois State Amateur at St. Charles, is one shot back after an opening round of 65 at Royal Hawk. In fact the top of the leader board mostly has players from Royal Hawk where par is 72. The par at Royal Fox just to make things a little more confusing is 71. But in the end it all evens out.
At 5 under par is Brandon Holtz of Bloomington, and Andy Mickleson the Director of Golf at Mistwood GC. Past champion and university of Illinois Golf Coach Mike Small was at 2 under par. Carlos Sainz jr. of Elgin was a shot back at 5 under par, Sainz lost the 2013 Illinois Open in a playoff, and won the now defunct Chicago Open at Cantigny.
"My round was pretty solid even though I bogeyed the first hole," said Mickelson. "I was playing with Carlos (Sainz) and Raymond (Knoll) and with them you need to pull your boot straps up right away and play better. I got some great breaks on the back nine. I hit it close on 10, and was able to make eagle there."
Mickelson said he found something in his swing about three weeks ago, and he has been riding the momentum ever since. That included a win during an IPGA event at Bowes Creek in Elgin.
Carroll had a home game for round 1, playing Royal Hawk where he works as the head professional.
" I have only played the course two times this year," said Carroll. "I fact when I got here today, I spent the morning making sure everything was running okay. But then I made birdie on the first hole which I don't normally do here, a seven-iron to 12 feet and made that and it got me rolling. I know with this course you have to score early and then hang on a little on back nine."
Brad Hopfinger the 2014 champion at the Glen Club was two shots back at 4 under par.
Royal Hawk headed into the championship was expected to yield the lower scores of the two courses. Zach Burry an amateur from Quincy, carded the low round at Royal Fox a 2 under par 69.
The field this year is 258 players, that size field started last year. The field has had 14 WD's or DNS on day one.