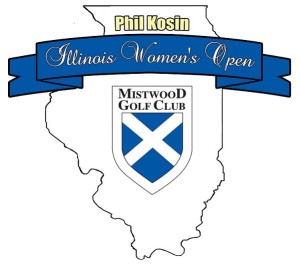 THE 22ND PHIL KOSIN ILLINOIS WOMEN'S OPEN AT MISTWOOD. (M) Greg Kosin brother of the late Phil Kosin with 2016 IWO Champion Stephanie Miller of Elgin. The Mistwood Golf Club on Renwick Road is 18 holes, a golf performance center, and a new clubhouse that includes McWethy's Tavern. Mistwoodgc.com or call (815)-254-3333.     _____________________________________________________________________
The 22nd Illinois Women's Open is in the books, and there is another first time champion.
Elgin's Stephanie Miller, a member of the University of Illinois Women's golf team is holding the Phil Kosin Trophy.
Since Miller is an amateur, the first place professional check of $5,000 went to Embur Schuldt a U of I alum from Sterling Illinois.
But the day and the championship belonged to Miller, who never wavered and put together three great rounds of 69-69-69 for a score of 207 that won by three shots over Kelly Grassel, from Chesterton Indiana. Miller made only one bogey in 54 holes and that was on hole 53, on the par 3, 17th where by then the championship was in hand.
For Miller, the victory marked the end of five years of trying to win the IWO.
Miller burst on the Mistwood scene while she was still playing high school golf at Stevenson High School, where she won the IHSA girls state title in both her Sophomore and Senior years.
During her first year at the IWO, she raced to lead and held it after both round 1 and 2. But in the final 18 holes of playing in the last group, she shot 80 and watched Tulane University golfer Samantha Troyanovich win the championship in a playoff.
When Miller returned in 2013 some thought it could be her time, and she would make up for the one that got away. Instead she struggled to make the cut and barely got to play the last 18 holes. 2014 and 2015 were better efforts, but Miller was still not contending like she did in 2012.
This year Miller put the clubs down for several days leading up to the IWO, and spent time in both Hawaii and Alaska over the summer. From a mental standpoint she was refreshed and ready, headed into Mistwood.
Having a good round has not been a problem for Miller, stringing them together for three or four days has been. This time with her dad Alan on the bag, she found the consistency needed to win
This time after only some minor practice, Miller came to Mistwood with no expectations, and came away with a trophy, and 1 year membership to the club for winning the title. Miller plans to return in 2017 and defend her title.
The key was three early birdies on holes 5-6-7, and a near miss for a fourth one on the 8th hole. That allowed her to pull ahead of her playing partner Brooke Ferrell a senior on the University of Wisconsin's golf team where she will be a senior this fall. But Ferrell didn't quit, fighting back to get within one shot of Miller after a birdie on the 13th hole.
After both players parred the par 3, 14th hole to start the run around Kelpie's Corner (holes 14-17 at Mistwood), Ferrell with the honor drove her ball in the water, after her second tee shot found the left rough. Ferrell now hitting four, then blasted a wood over the bushes and out of bounds. Ferrell made a quad bogey nine and when Miller made her par 5, the lead was 5 shots with three holes to play.
Miller then made birdie from 15 feet on the par 4, 16th hole. When Ferrell could only par the hole, she trailed by 6 shots with two holes to play. At that point Grassel jumped into second place, only four shots back of Miller. Ferrell got 1 shot back on 17 when Miller bogeyed the par 3 hole, but it was too late as both players parred 18. Grassel could only par 18, and not put any added pressure on Miller.
Five players broke par for the championship, including Ferrell and Northwestern University's Hanna Kim tied for third place at 2 under par. Schuldt was alone in fifth place, while Miller's teammate at Illinois Bing Singhsumalee was 6th at even par.
The only past champion in the field Wheaton's Jeana Pearson was 7th after a final round 73 left her at 218 and two over for the tournament. Pearson received 2nd place professional money.
Click here to hear interviews with Illinois Women's Open Champion Stephanie Miller and Brooke Ferrell.
32 players did make the cut and played in the final round. Greg Kosin brother of the late Phil Kosin who founded the championship, made the trophy presentation to Miller and spoke on behalf of the Kosin family. At the dinner after Sunday's pro-am, six $1,000 scholarships were handed out.
The 23rd IWO Championship will be played at Mistwood in July of 2017. For information see the Mistwoodgc.com website for details.