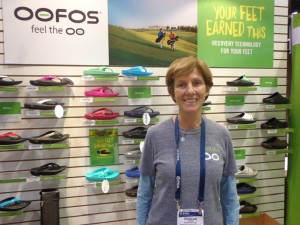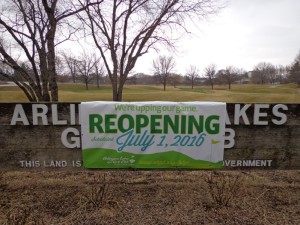 DUNCAN FINIGAN stands in the most comfortable things you can put on your feet, you can find out what that would be at OOFOS.com. Foot recovery footwear that fits your your feet for all occasions and locations. ARLINGTON LAKES is reopening in two weeks from a 13 month renovation by Mike Benkusky, (847)-577-3030 for your tee time. ______________________________________________________________________
The 116th U.S. Open at Oakmont is off to a wet start, as Round 1 is in it's third rain delay.
For the grounds staff and the USGA tournament committee headed up by Executive Director Mike Davis, the product they put weeks of work into, is turning into something they did not wish for.
One would hope they would get to finish Round 1 today, but now that won't happen as the downpour Oakmont is geting is a big one, and the USGA has canceled play for the remainder of the day.
FOX SPORTS the USGA broadcast network has been solid now for two straight days of coverage. Fox did an outstanding job on Wednesday during the practice rounds, talking with professionals like Zach johnson and Jordan Spieth on the course as they practiced shots for different locations on certain holes.
During the first round the coverage, camera angles and features have very good. Joe Buck, with Paul Azinger and Brad Faxon makes a big difference in the booth, and Holly Sonders looks much better in her pink dress, than the outfits she wore last year at Chambers Bay. The addition of Oakmont Professional Bob Ford and architect Gil Hanse has brought much more to the broadcast. Grade So far "A".
NORTHBROOK BASED Kempersports management is annoucing an ultimate "buddies trip".
One golfer will win a chance for a Buddies Trip of a lifetime, at a KemperSports property. The sweepstakes runs through Sept. 5 2016. The winner gets up to $10,000 worth of credit in putting the trip together.
To enter the sweepstakes which is free, please visit kemperclub.com/ultimate.
KemperSports and Cantigny Golf in Wheaton has announced a new program to help draw golfers 35 and under out to the golf course.
Cantigny's Golf Young Executive Program, that is amking it's debut in 2016, offers an opportunity for golfers 35 and under, reduced green fees for round of both 9 or 18 holes.
The program that has just tee'd off, is quickly getting a strong response says Patrick Lynch, Cantigny head golf professional.
" When men and women at that stage of life usually have busy careers and growing families," said Lynch. "Their resources for playing golf are usually limited. Our young Executive Program provides an incentive to tee it up a little more often and perhaps use the Cantigny for customer golf."
The program is free to join and includes membership in Cantigny's Red Oak Club, a customer loyalty program that awards points towards free golf and other benefits.
Those golfers deemed eleigible for the program can play 18 holes at Cantigny for $75 per player with a cart included. The rate is available Monday through Thursday all day, and after Noon on Saturdays and Sundays. The 9-hole Young Executive green fee is $40, cart included and is valid for any available 9-hole tee time.
For more information on the Young Executive Program go online to CantignyGolf.com or call the Cantigy pro show at (630)-260-8197. Cantigny is located on mack Road in Wheaton. The number for tee times is (630)-668-8463.