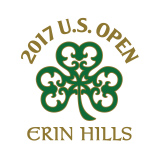 THE 2017 U.S. OPEN AT ERIN HILLS IN ERIN WISCONSIN, after 14 years the U.S. Open finally returns to the Midwest. Erin Hills is open to the public and a course you can play, book a tee time or overnight stay before they fill up for the season. The course will close a little sooner this fall and not reopen until after the completion of the open next season. Rick Tock from Erin Hills joins Golfers on Golf Radio WSBC AM 1240, this Sunday morning for more on Erin Hills and what the 2017 U.S. Open might look like. ______________________________________________________________________
When the final putt falls at Oakmont this weekend or next Monday in case of a playoff, the Erin Hills Golf Club in Erin Wiscosnin, will be as they say at the draft, "On the Clock."
This week you can purchase your tickets to attend the U.S.Open in 2017.
To purchase tickets for the 117th U.S. Open that will be played from June 15-18, please see USGA.org/tickets and or usopen.com.
Erin Hills is the first Midwest Course to host the U.S. Open since Olympia Fields in 2003, and it will be the last for several years, as the U.S. Open has been awarded through 2024 without another Midwest location being on the schedule.
"Bringing the U.S. Open Championship to Wisconsin gives us another opportunity to inspire new audiences to love the game," said Mike Davis, executive director/CEO of the USGA. "There is a wonderful feel to Erin Hills, both completely connected to it's natural enviroment and chellenging, with architectural nuances that entice players to be creative and competitive."
The prices for tickets at Erin Hills, start with $50 for daily gallery tickets and $100 for package options, respectively include.
1895 Club: The 1895 Club is an all-inclusive ticket option featuring breakfast, buffet lunch with hot entrees, afternoon snacks, and full bar service through out the day in a custom-designed climate controled enviroment.
The Trophy Club: Located near the main admission gate, the Trophy Club is a climate controled pavillion offering open seating, live network coverage of the championship in a sports bar-like setting, and variety of food and beverage options available for purchase at an additional charge.
Gallery: Gallery tickets provide access to the grounds and to all concession locations, grandstands through out the course and spectator experience facilities.
Weekly packages: Each ticket type can be purchased as a weeklong ticket package. All weekly packages include a playoff ticket for Monday June 19th if needed. Ticket buyers who purchase an 1895 Club weekly package will receive a playoff Trophy Club ticket, as the 1895 Club will not open if a playoff is required.
Practice-Round and Championship-Round packages: Both Trophy Club and Gallery Tickets are available in three-and four-day packages.
Erin Hills was designed by Michael Hurdzan and Dana Fry and Ron Whitten, the club opened in 2006 and has hosted the 2008 USGA Women's Public Links and the 2011 U.S. Amateur Championship.
Juniors 12 and under can get free tickets when accompanied by an adult with a paid admission. Juniors 13-17 with paid adult admission can a reduced price on tickets. There are tickets on site for military personnel. Free tickets during practice rounds and gallery tickets for just $25 during the four championship rounds.
If you have questions regarding tickets you can contact ticketquestions@usga.org or you can call (800)-698-0661.
Corporate patrons can explore a variety of hospitality options for the U.S. Open at Erin Hills by visiting usga.org./tickets
This years 2016 U.S. Open at Oakmont is the 30th consecutive year that the U.S. Open has been sold out.