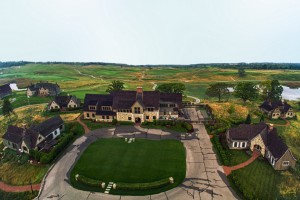 ERIN HILLS GOLF CLUB in Erin Wisconsin is waiting for your call, the home of the 2017 U.S. Open is filling fast in 2016 so book tee times and overnight stays now. See Erinhills.com for more information. Arrowhead Golf Club the home of Pelican Golf Instruction is some of the best public golf in Chicago, 27 great holes on the courses, and a fantastic 28th for when your done see Arrowheadgolf.org for details and more.      _____________________________________________________________________
It's been said that the third time is the charm, and for the Golf Club at Harbor Shores 2016 is the third time the course will host the Sr. PGA Championship presented by Kitchen-Aid.
For two-time defending champion Colin Montgomerie, 2016 marks an opportunity for him to three-peat at this championship.
For "Monty" the Sr. PGA was his first major on either tour, and since breaking through at Harbor Shores, Montgomerie has won a U.S. Sr. Open and a then another Sr. PGA on the Pete Dye Course at the French Lick Resort. His bid for the hat-trick is taking place the week of May 24-29th and over Memorial Day Weekend.
Many of the regular players on the Champions Tour will be back to as Monty says, "give it a go", but one player missing will be 2014 runner up Tom Watson who wrote the club and apologized for his absence citing a prior commitment with his wife.
The Sr. PGA Championship has turned into a fun event in the Benton Harbor and St. Joe's area during the Memorial Day Weekend.
As a result large galleries line the property, and it makes for a great atmosphere according to many people who attend, and from the players themselves.
During Monday's media day, PGA of America spokesman Julius Mason and Montgomerie has a fun session about Montgomerie's history and his lack of knowledge about kitchen products.
It a session that looked right out of the "Price is Right" Montgomerie got to try and identify various products, he did get a few correct in spite of claiming he is not a cook or a kitchen type guy.
Click here to hear PGA President Derek Sprague and some career highlights and stories with PGA spokesman Julius Mason and Colin Montgomerie.
A second part with Montgomerie on the Harbor Shores golf Club will run in the short future.
In the meantime for more information the championship, please visit PGA.com/Srpga for all the details.