FUJIKURA SHAFTS the # 1 shaft on several professional tours, make you game better insist on Fujikura Shafts, see Fujikuragolf.com. The 2016 Sr. PGA Championship will be held again this year at Harbor Shores Golf Club in Benton Harbor Michigan. PGA.com. ______________________________________________________________________
You can tell that summer and tournament time is coming. As today is the launch of media days for many of the summers golf events.
Two-time defending champion Colin "Monty" Montgomerie meets the media at the Jack Nicklaus designed Harbor Shores Golf Club in Benton Harbor Michigan.
As the Senior PGA Championship returns for the third time in five years. The championship was played last year on the Pete Dye designed Dye Course at the French Lick Resort in southern Indiana. The championship will return to Harbor Shores in 2018.
Benton Harbor based Kitchen-Aid remains the sponsor of the Sr. PGA championship.
Harbor Shores was created by the Nicklaus design team, that saw a garbage dump turned into a beautiful golf course. It has several different themes to it. A wetland area, a dunes near the waterfront area, a more classic style Northern Michigan look, and a part of the course that has a links like feel. The housing around Harbor Shores has continued to grow and the area feels more like a community. The tournament is played Memorial Day weekend.
I will have more on Harbor Shores and the Montgomerie press conference tomorrow.
I'm not sure what Mike Small said to his team after round two of the B1G Ten's Men's Conference Golf Championship. But it sure worked, as the Illini that led the tournament after round 1, and woke up in third place heading into the final round, came storming back in the final round to win the B1G Ten by 13 strokes.
In the final round all of the Illini players simply took off and went low at Victoria National, the streak of championships continue for Illinois.
IN EVANSTON the celebration is on for the Lady Wildcats who tied for first place with Ohio State, the Buckeyes made a late run to pass the Cats, but could only catch them. Congrats to NU Director of Golf Pat Goss and coach Emily Fletcher.
It's always nice when the word comes down from Kohler Wisconsin that all four of the American Clubs courses are open, then you know summer is closing in.
I am proud to report that just less than two weeks ago that press release did arrive.
There are four great Pete Dye designed courses thst make up the resorts golf operation. While Whistling Straits might get most of the publicity, the Irish Course the River Course and Meadow Valley courses can hold their own against just about anything else our country can offer. Destinationkohler.com.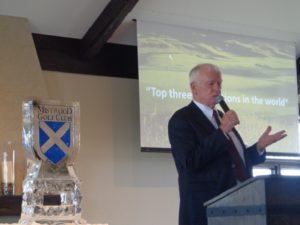 Congrats to Mistwood Golf Club owner Jim McWethy on the Grand-Re-Opening of his Mistwood Golf Club.
All three phases are complete, and they look great. The golf course, the performance center and the clubhouse.
The reopening week was capped off by a craft beer festival, and fireworks on Saturday night. If you have never been to Mistwood it's time to go. If you haven't been there in a while it's time to return. Mistwood like you have never seen it before. Mistwood now joins the list of the top 3 public courses in the Chicago area.
While at Mistwood last week, it was nice to see golf course architect Ray Hearn who tells me that he will be back working the Chicago area before too long. Hearn will be involved with the Oak Brook Hills Resort that is redoing the hotel and the golf course.
ON THE PGA TOUR, it was a good week for both Chicago area players, and for the Chicago based Wilson Golf, staff players. Late in Sunday's final round at least four Wilson players were in the Top 20, and that doesn't count Elmhurst's Mark Wilson.
GOG RADIO enjoyed week #2 yesterday. It was nice to catch up with Shepherd's Crook retiring GM Larry Myers, for all of us who have enjoyed working and being around him the last 15 years, he will be missed.
ILLINOIS PATRIOT DAY founder Mark Slaby was also a guest on the show. The Illinois Patriot Day has it's annual golf outing at Medinah Country Club on May 30th. There are still ways to get out and play if you wish, but contact the foundation quickly. Things are about sold out for golf, you can still come to the dinner or bid on prizes. Illinoispatriot.org for those who need more information on one of Chicago's premier charity outings.
The Gog Blog is finally starting to feel better, and looking forward to getting back on the golf course. More on Harbor Shores tomorrow, tune into GOG Radio this Sunday at 9 Am on AM 1240 WSBC and stay clicked in here. RS.